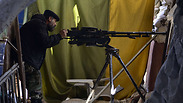 Guard post in Yarmouk
Photo: AFP
The Palestine Liberation Organization said it will not be drawn into military action in an embattled Palestinian refugee camp in Syria, rejecting claims that Palestinians would join Syrian troops in driving Islamic State militants from the camp.
The PLO statement, issued late Thursday, contradicted comments earlier in the day by the PLO envoy to Damascus, Ahmad Majdalani, that Palestinian groups are ready to join forces with the Syrian government to expel IS fighters from the Yarmouk camp.
His comments ran counter to Palestinian President Mahmoud Abbas' long-standing position that Palestinians should stay out of the Syria conflict. It was not immediately clear why Majdalani, sent by Abbas to Damascus to deal with the Yarmouk crisis, came out in support of Palestinian military involvement in Syria.
Wasel Abu Yousef, a senior PLO official, said Friday that negotiating safe passage for Yarmouk's besieged residents and for humanitarian supplies is preferable to military action.
"We know that if the (Syrian) army, with its planes and tanks, would interfere, this would mean the complete destruction of the camp," he said.
Islamic State fighters overran much of Yarmouk last week, establishing a foothold in the Syrian capital for the first time. The incursion is the latest trial for Yarmouk's estimated 18,000 remaining residents, who have already suffered through a devastating, two-year government siege, starvation and disease.
Reporters visiting Yarmouk on a government-escorted tour Thursday saw blown-out buildings at the camp's northern entrance that were nothing but empty shells. In its dusty and deserted streets, a few sheep foraged in the rubble.
A Syrian government official has said driving IS out of Yarmouk by force is a top priority and the only option. Majdalani said Thursday after meeting with Syrian officials that a military campaign by Syrian troops and Palestinian factions "will start soon."
However, the PLO later said that "we refuse to be drawn into any armed campaign, whatever its nature or cover."
"We call for resorting to other means to spare the blood of our people and prevent more destruction and displacement for the Palestinians" in Yarmouk, the statement said.