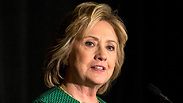 Hillary Clinton is running for president
Photo: EPA
Hillary Clinton announced Sunday that she is running for president in 2016, and wants to be country's "champion." Following Sunday's announcement, she's expected to travel soon to early voting states, including Iowa and New Hampshire.
Clinton has signaled that she intends to run on strengthening economic security for the middle class and expanding opportunities for working families: "Everyday Americans need of a champion. I want to be the champion,I leave the field to win your vote," she said.
"Americans have fought their way back from tough economic times, but the deck is still stacked in favor of those at the top," she said in a video released Sunday with the announcement.
Clinton will try again to crack what she calls "the highest and hardest glass ceiling" when she starts a long-awaited second run for the White House as the prohibitive Democratic front runner.
I'm running for president. Everyday Americans need a champion, and I want to be that champion. –H https://t.co/w8Hoe1pbtC

— Hillary Clinton (@HillaryClinton) April 12, 2015
Clinton's campaign for the November 2016 election will emphasize her plans to address economic inequality and will tout the historic nature of her bid to become the first woman US president, aides said.




One of her biggest challenges will be to show a more down-to-earth side while connecting with ordinary voters. Critics, including progressives within her own party, say that after decades as the wife of former President Bill Clinton, a US senator and secretary of state she has grown out of touch.

Posters have appeared around Clinton's Brooklyn campaign offices, hanging from traffic lights and pasted on telephone boxes, depicting her face lined with exaggerated wrinkles and bearing the slogans: Ambitious, Calculating, Insincere and Secretive.

A few hours before the expected launch, the comedian Kate McKinnon lampooned Clinton, 67, on the influential television sketch show "Saturday Night Live", portraying her as a detached, self-obsessed and power-hungry candidate in a spoof announcement video.

In a memo made public on Saturday, Clinton's campaign manager Robby Mook told staff that while the goal was for Clinton to win the presidency, the campaign was not about her but "everyday Americans".



"We are humble: we take nothing for granted, we are never afraid to lose, we always out-compete and fight for every vote we can win," he said in the campaign memo, titled "We Are Hillary for America".

Clinton, who lost a heavyweight Democratic nominating battle to Barack Obama in 2008, was expected to announce her campaign on video and social media sometime on Sunday afternoon. She will travel soon afterward to Iowa.
Pre-emptive attack
Even before the much-anticipated announcement on Sunday, potential Republican opponents took swings at Clinton, with former Florida Governor Jeb Bush criticizing her guidance of US foreign policy as secretary of state.

"We must do better than the Obama-Clinton foreign policy that has damaged relationships with our allies and emboldened our enemies," Bush said in a video released by the political action committee Right to Rise.

Bush, brother to former President George W. Bush, is currently exploring a presidential bid.

Kentucky Senator Rand Paul, who formally began his campaign for the Republican nomination last week, made the rounds of Sunday talk shows to slam Clinton's handling of a 2012 attack on a U.S. diplomatic compound in Benghazi, Libya.

In her memoir "Hard Choices," Clinton dismissed the Republican criticism of her handling of the attacks as exploiting a tragedy for political gain.

Paul also released an attack ad accusing Clinton of being out of touch and representing the worst of "the Washington machine." The ad was slated to air on cable television in Iowa, New Hampshire, South Carolina and Nevada, which hold the first nominating contests in 2016.
Liberals skeptics
Clinton operatives, meanwhile, have already begun reaching out to top bundlers to urge them to start calling people in their donor networks, a source familiar with the matter said. At least one West Coast bundler began making calls to top donors this past week, and will place another round of calls after the announcement Sunday, the source said.

Many Democrats have eagerly awaited Sunday's announcement since the day in June 2008 when Clinton pulled out of her primary battle against Obama with an expression of regret that she could not crack "that highest and hardest glass ceiling this time".

But Clinton still has to convince some liberals that she is the best candidate to tackle issues like income inequality and the power of Wall Street banks. Some liberal groups are pushing Democratic Senator Elizabeth Warren, a staunch foe of some Wall Street practices, to challenge Clinton.

Opinion polls show Clinton has a huge lead over potential 2016 Democratic rivals, and few are expected to enter the race. A Reuters-Ipsos tracking poll shows Clinton backed by more than 60 percent of Democrats. Warren, who says she is not running, is a distant second at 18 percent.

On Saturday at the Americas summit in Panama City, Obama said at a news conference that Clinton would make an "excellent president."

Germany's foreign minister welcomed Clinton's expected announcement. Writing in Germany's top-selling Bild daily on Sunday, Frank-Walter Steinmeier said Clinton has been a reliable partner for Europe and "has also proven she has sure instincts in world crises - from Afghanistan to the Middle East."

So far, former Maryland Governor Martin O'Malley and former US Senator Jim Webb of Virginia, whose support languishes in single digits in polls, are the most prominent Democratic contenders to take steps toward challenging her.

Reuters and AP contributed to this report