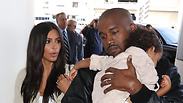 Kim Kardashian, Kanye West and daughter North West
Photo: Getty Images
A few hours after Kim Kardashian and Kanye West arrived in Israel on Monday, the true nature of their visit has been revealed: A baptism for North West, their almost two-year-old daughter. After the ceremony, the two joined Jerusalem Mayor Nir Barkat for dinner at Jerusalem's Mona resturant.

Video; Eli Mendelbaum (צילום: אלי מנדלבאום)

While it was previously believed that the famous couple had come to Israel to visit holy sites in Jerusalem, it turns out that they were specifically coming to baptize North at the Cathedral of St. James in Jerusalem.





The Cathedral of St. James is an Armenian church in the Armenian quarter of Jerusalem. The Kardashian family is of Armenian descent and Kim and Kanye had visited Armenia prior to their arrival in Israel.




The baptism took place Monday afternoon and Kim and Kanye were accompanied by Khloe Kardashian – Kim's sister and baby North's aunt.

Post-baptism furor as Kim and Kanye leave church (Video: Yarden Greenberg) (צילום: נעם קסל, איתן ברוד, ירדן גרינברג וג'ייקוב מנדלוביץ' רום)

After the ceremony at the cathedral, the famous entourage continued to the Church of the Holy Sepulchre.

Most Christians believe this is the site of the crucifixion, burial and resurrection of Jesus.

The Church of the Holy Sepulchre is located in the Christian Quarter of the Old City and is mentioned in the New Testament.

Sharon Shavit, the Kardashian family's producer in Israel, did not comment on the report of North's baptism.

Noam Castle and Keren Yaakobi contributed to this report.