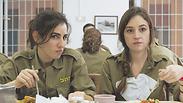 Dana Ivgy (L) and Nelly Tagar in 'Zero Motivation'
The tremendous success of Israeli film "Zero Motivation" at the Istanbul International Film Festival managed to surprise even Israeli Deputy Consul General Ohad Avidan Kaynar, who knows a thing or two about Turkey.

"It was exciting seeing Israeli humor, especially military humor, cracking up the Turkish audience." he says. "Military terms crossed the border and created laughter and excitement in Turkey."

"Zero Motivation" is a comedy-drama about a unit of female IDF soldiers at a remote desert base. The film was screened three times at the first and oldest international film festival in Turkey, which is organized by the Istanbul Foundation for Culture and Arts (IKSV), and the auditorium was completely packed each time.

The film's stars, Israeli actresses Dana Ivgy and Nelly Tagar, attended the third screening and answered the audience's questions.

Tagar even befriended an Iranian filmmaker, Ayat Najafi, during the festival. "We started talking – about Iran, about Lausanne, about Yemen, a bit about (Prime Minister Benjamin) Netanyahu, a bit about (Turkish President Recep Tayyip) Erdogan," she says.

"And then we spoke about films, about Gondi (a Persian Jewish dish), about Isfahan, about Tel Aviv, about parties and about girls. And then we hugged and pretty much solved the conflict."