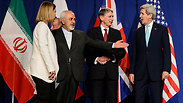 Republican and Democratic leaders of the US Senate Foreign Relations Committee reached a compromise agreement that would shorten Congress' review of any final Iran nuclear deal to 52 days under an Iran nuclear bill, the panel's chairman, Republican Senator Bob Corker, said on Tuesday.

The US Senate Foreign Relations Committee voted 19-0 to approve an amended version of a bill that would give Congress a vote on any final nuclear deal with Iran.

The compromise will give Congress 30 days to review the deal, 12 days for a possible veto of congressional action by President Barack Obama and then 10 days for an override vote. Obama, the White House said on Tuesday, would be willing to sign the current version of the bill.

The measure, put forward by Corker, seeks to give Congress a vote on any final nuclear agreement with Iran. International negotiators have set a June 30 deadline for reaching a final agreement aimed at curbing Iran's nuclear program in exchange for lifting economic sanctions against Tehran.

Obama would not be able to waive sanctions imposed by the US Congress during the 52-day review process, Corker said. The proposed review process would begin after a final agreement is reached.

"We have kept the pure integrity of the process in place" in the compromise, Corker told reporters as he walked into a classified briefing for the Senate by Secretary of State John Kerry and other top Obama administration officials.

Supporters of the bill have been scrambling to shore up bipartisan support for the measure.

They want to win strong support from both Republicans and Democrats on the committee in the hopes of winning over the 67 members of the 100-member Senate to eventually override a presidential veto, if necessary.

The compromise also would remove a provision of the bill that would force Obama to certify that Iran has not supported any act of terrorism against the United States or US citizens anywhere in the world, the Senate aide said.

That provision would be replaced by a requirement that the president provide Congress with a series of reports on a range of issues, including terrorism, the aide said.