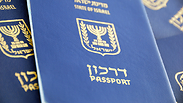 Israeli passports
Photo: Shutterstock
The Paraguay Police has arrested 11 Arab travelers since early March, most of whom citizens of Syria and Iraq, who were using forged Israeli passports to enter the country.

Paraguay's Ambassador to Israel, Max Haber Neumann, updated the Israeli Foreign Ministry about the arrests.

Paraguay wants to expel the arrested travelers, but is having difficulties doing so as some of them are minors.

Customs officers in Paraguay were instructed to be more vigilant after similar cases of Israeli passport forgery were discovered in Spain, Uruguay, Ecuador and Colombia in February and in light of Israel Foreign Ministry warnings that terrorist groups might attempt to attack Israeli and Jewish targets in South America.

There were at least two attempts to attack Israel's Embassy in Montevideo, the capital of Uruguay, in recent months. In one of the cases, in early January, a small explosion was heard outside the Embassy. A bomb squad was called to the scene to neutralize the explosive device.

Paraguay Ambassador Haber Neumann said that it was his understanding the 11 arrested travelers were refugees from the Middle East who arrived in Latin America as a stop on their way to Spain or other destinations in the European Union.

In September of last year, two Iranians were arrested in Kenya on their way to Brussels with fake Israeli passports.

The use of fake Israeli passports is very common worldwide, since they are easy to forge and allow free entry to many countries.