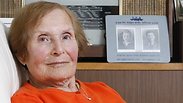 Miriam Steinberg
Photo: Dana Kopel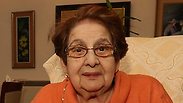 Netta Gattegno
Photo: Shaul Golan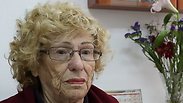 Riva Rosenzweig
Photo: Shaul Golan
The head of the Foundation for the Benefit of Holocaust Survivors in Israel, Rony Kalinsky, says that it is vital that people volunteer to visit the remaining survivors, offer a sympathetic ear and ensure that they do not feel alone.
Here, three survivors, widows who never had children, say they just want someone to listen to their stories.
'It's hard for me, but I'm used to not crying'
Miriam Steinberg, aged 93

"I lost my entire family in the Holocaust. I was in the concentration camps for more than a year, and in 1944 I arrived at Auschwitz-Birkenau. I was with my sister at the selection, until they separated us.

"After the liberation, I arrived in Israel, and here I met my husband, who came to Israel before the war. He volunteered for the British Army and fought against the Nazis.

"Since he passed away five years ago, I've been alone. I have no children and I am very lonely. Being alone is not easy. I try to function, force myself out of bed, do the cooking and go shopping.

"When it is too hard for me, I pay to have my shopping brought home. It's not easy, and my situation today is not good, but I don't want to complain, that would be worse. I'm used to not crying from my home in Hungary. In our house you always gave and did not take.

"I have a neighbor who calls to check how I am, and people sometimes do call. But I would like them to come to hear my story; that students would come so I can tell them what happened. It's important to listen and learn what happened to us, so God forbid something like that does not happen again."
'I want people to understand me'
Riva Rosenzweig, aged 91

"When the Germans killed my parents, I was seven. They killed all my family in front of my eyes. I moved from place to place until the end of the war, hiding in the forests and churches.

"I came to Israel in 1957. I was alone, without anyone. After everything I went through, I did not have children, because I could not give them what I never had. I did not know what a father was or what it was to cry on a mother's shoulder.

"Today I have all kinds of ailments. I have Alzheimer's and diabetes, and when I have to go to the doctor, no one comes with me. It is very painful and sad. From a financial perspective too, I barely manage, but what really hurts is that I want people to understand me. I want them to hear my story.

"All the neighbors' children in the building know me, and before Remembrance Day they come and write down what I went through. Before they travel to Poland, too, they come and want to hear. Sometimes I think I should be ashamed, but there it is. I wish things were different."
'I am all alone since my husband died'
Netta Gattegno, aged 92

"I remember when the Nazis came to Greece. They took everyone to the camps in Poland. The majority were killed - my parents, my little sister, uncles, aunts. Out of everyone who was there, only I returned.

"I survived Auschwitz and came to Israel on a ship with Haviva Reich (a Jewish parachutist sent into Nazi Germany by the Jewish Agency and British government). When I came to Israel, I did not have anyone. Wherever I went, I was told, 'Go to your Greeks.' I did not get help or anything.

"I met my husband in Israel, and after we got married I started working in a factory. Nine years ago he died, and since then I've been alone. The loneliness is terrible.

"I have no children and it is very difficult to be alone, but you have to keep living. I used to go to schools and give lectures but today it is a little difficult for me to talk. Occasionally, children come to visit and hear a few of my stories. I try to be active, but what can you do?"

Click here to contact the Foundation for the Benefit of Holocaust Survivors in Israel