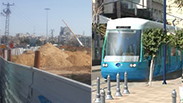 A simulation of the train vs. the situation at present
Photo: Gilad Morag
Works on the light rail in Tel Aviv will begin in earnest in the summer of 2015 in two central spots in the city and are expected to cause mass traffic delays.

According to sources in the Transportation Ministry and NTA Metropolitan Mass Transit System Ltd., works will start on the corner of Yehuda HaLevi and Allenby in July and in then in August at the Maariv Bridge, which will be demolished, and on Carlebach Street.

The target date for the opening of the train's red line, which will connect Bat Yam and Petah Tikva, is in 2021, but past experience raises the concern works will not be done by that time.

Sources at the Tel Aviv municipality and the NTA said they were still waiting on the Transportation Ministry to determine how to rearrange the bus lines in the affected traffic routes before being able to set a date to begin construction.

"They Transportation Ministry is in no hurry to determine how the bus lines will operate after construction begins and until it ends, which is why there could be a delay," one of the sources said.

The NTA has announced the beginning of construction in the past, but work has yet to start.

The Transportation Ministry said in response: "In addition to the works being done at Shankar Portal, the depot and at Em HaMoshavot station, work to construct underground stations in Ramat Gan and Tel Aviv will be done in the coming months."