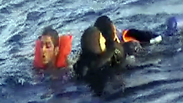 Past rescue efforts to save migrants in Mediterranean
Photo: AFP PHOTO / ITALIAN NAVY
As many as 700 people are feared dead after a boat carrying migrants capsized off the Libyan coast overnight, in one of the worst disasters seen in the Mediterranean migrant crisis, officials said on Sunday.

Twenty eight people were rescued in the incident, which happened in an area just off Libyan waters, south of the southern Italian island of Lampedusa, an Italian coast guard official said.

If confirmed, the disaster would be one of the worst seen during the decades-long migrant crisis in the southern Mediterranean and would bring the total number of dead since the beginning of the year to more than 1,500. So far, at least 900 have died trying this year as the overcrowded boats capsize.

"At the moment, we fear that this is a tragedy of really vast proportions," Carlotta Sami, a spokeswoman for the United Nations High Commissioner for Refugees, told SkyTG24 television.

The Italian official confirmed that navy vessels were involved in the operation, which was being coordinated by the Italian coast guard in Rome. But he said details were still being evaluated.

The boat is believed to have capsized when migrants moved to one side of the overcrowded vessel when a merchant ship approached.

"The first details came from one of the survivors who spoke English and who said that at least 700 people, if not more, were on board. The boat capsized because people moved to one side when another boat approached that they hoped would rescue them," Sami said.

The latest disaster is likely to fuel calls for a stronger response from Europe after heavy criticism of the Triton border protection operation which replaced a more comprehensive Italian search-and-rescue operation dubbed Mare Nostrum last year.

The lawless state of Libya following the toppling of former leader Muammar Gaddafi in 2011 has left criminal gangs of migrant smugglers a free hand to send a stream of boats carrying desperate migrants from Africa and the Middle East.

Around 20,000 migrants have reached the Italian coast this year, the International Organization for Migration (IOM) estimates. That is fewer than in the first four months of last year but the number of deaths has risen almost nine-fold.

Italy phased out "Mare Nostrum" or "Our Sea" late last year, making way for the European Union border control mission, Triton, which has been criticized by humanitarian groups and Italian authorities as it has a much smaller budget and a narrower remit.