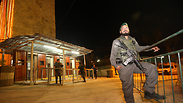 Israeli forces near the Cave of the Patriarchs
Photo: Gil Yohanan
Four police officers were hit by a car in Jerusalem near the Mount of Olives in a suspected terror attack on Saturday night. A suspect in the attack, 31-year-old Fadi Saleh from the Shuafat refugee camp in East Jerusalem, was arrested Sunday morning.
Magen David Adom paramedics that arrived at the scene treated the four victims; three sustained light injuries and one was moderately hurt. Locals began clashing with police and rocks were thrown at the ambulances called to evacuate the wounded.
The attack came after a day of riots in the At-Tur neighborhood of East Jerusalem.
Jerusalem Mayor Nir Barkat drove to the scene of the attack, where his car came under attack by rock-throwers as well. One rock lightly damaged the vehicle; no one was hurt.
After the attack, riots erupted in several East Jerusalem neighborhoods including At-Tur, Silwan, and the Muslim Quarter.
Jerusalem Police said that a vehicle was driving from the direction of the cemetery on the Mount of Olives when it veered onto the sidewalk and hit the officers. "Officers fired towards the vehicle. In searches which occurred after the incident the vehicle was discovered. Searches continue for the terrorist."
Magen David Adom spokesperson Zaki Heller said paramedics treated four wounded, including a police officer in her twenties with moderate wounds to her lower limbs.
Earlier in the evening, a Palestinian terrorist attacked a Border Police officer, stabbing the Israeli in his head and chest with a knife near the Cave of the Patriarchs. The attacker rushed a combat unit, injuring one before the other soldiers fired at him.
Magen David Adom emergency personnel treated the soldier and he was evacuated to Sha'are Tzedek Medical Center in moderate condition; the terrorist succumbed to his wounds later in the evening.
Also on Saturday evening, a Molotov cocktail was thrown at a bus driving on Route 443 towards Jerusalem, which caught fire. Local police said there were no injuries in the incident.
On Saturday afternoon, some 20 rioters were wounded in East Jerusalem clashes which erupted after the thwarted terror attack in Ma'ale Adumim the night before, in which the attacker was killed, according to the Red Crescent Society.
A police officer was wounded by a Palestinian rock-thrower during the clashes. He was evacuated in light condition to the Hadassah Ein Kerem Medical Center.