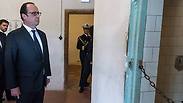 Francois Hollande at the camp
Photo: EPA
French President Francois Hollande urged vigilance against resurgent anti-Semitism and racism, as he visited a former gas chamber Sunday to honor Jews, Gypsies and French resistance fighters who died in the only Nazi concentration camp on French soil.

"The worst can still happen. Anti-Semitism and racism are still here," Hollande said at the Natzweiler-Struthof camp in Alsace, at a ceremony marking 70 years since the last Nazi camps were liberated by Allied troops in World War II.

Hollande, whose country is still tense after terrorist attacks on a kosher supermarket and newspaper in January, decried the "atrocities" at the camp.

"We must not forget anything," he said.

The camp was built in 1941 to liquidate enemies of the Third Reich, rounded up from more than 30 countries around Europe. Fighters resisting the Nazi occupation of France made up most of the around 50,000 inmates of the Natzweiler-Struthof camp, and nearly half of them died of starvation, torture, illness and mistreatment.

The Nazis also built and tested one of their first gas chambers at the camp. Hollande and European Parliament President Martin Schultz visited the chamber and unveiled plaques in memory of the Jews and Gypsies killed there.

The head of the Council of Europe, a continental human rights body, urged renewed efforts to prevent ethnic tensions in a Europe that is largely peaceful but struggling with economic stagnation and waves of immigration.

"In the face of growing racism in Europe, our culture of commemorating the Holocaust is as important and necessary as ever," Thorbjorn Jagland said.

Hollande, Jagland and EU President Donald Tusk then visited a memorial museum at the camp to the deported resistance fighters, alongside descendants of the camp's victims. The site includes rooms used for experiments on prisoners and autopsies, and a ditch dug for the victims' ashes.

The camp was built by 300 Germans who had been taken prisoner by the Nazis for opposing Hitler — and who were later incarcerated at Struthof and died there.

The Nazis evacuated the main camp and forced prisoners to march to Dachau in Germany as Allied soldiers approached in September 1944. American troops liberated the remainder of the camp in November 1944.

The Alsace region was annexed by Germany early in World War II, and became French territory again after the war.