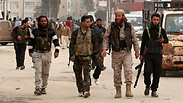 Al-Nusra Front fighters in Syria
Photo: AFP
Explosions in the early hours of Monday on the Syria-Lebanon border were the work of the Al-Nusra Front militant group fighting the Assad regime, and not Israel, reliable sources said Monday morning.
The group is apparently trying to make psychological gains that would lead to the departure of the Syrian army and Hezbollah from the region, making them believe that Israel is launching strikes there, and taking advantage of the alleged previous Israeli assault.
Al Jazeera reported overnight Sunday that Israeli warplanes had hit rockets launchers belonging to the Syrian army and to the Lebanese- based Hezbollah militant group, whose fighters are aiding its ally President Bashar Assad.
On Monday morning, however, it emerged that Israel was not involved in the pre-dawn strikes
The Qatar-based Al Jazeera network had reported that Israel was behind the blasts in the Qalamoun region late Friday, which came some 48 hours after an alleged Israeli air strike in the same area. On Saturday morning, Arab media reported that Israel had launched an attack in Syria late Friday night, hitting a convoy of long-range missile intended for Shiite terror group Hezbollah.
The reports of the second alleged Israeli strike came hours after IDF troops killed four terrorists trying to place a bomb along Israel's border with Syria.
An IDF patrol identified four figures approaching the border near Mt. Dov in the Golan Heights at around 9:30 pm and alerted IAF planes to the scene.