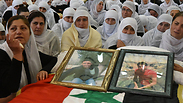 Mourners tent for the two terrorists in Majdal Shams
Photo: Aviyahu Shapira
Two of the terrorists shot dead by the IDF as they were trying to plant an explosive device on the Israeli-Syrian border fence were originally from Majdal Shams.

The brothers Tair and Nazih Mahmoud, both in their 20s, were born in the Druze village but later moved to the village of Hader in the Syrian Golan Heights.

"Naziah planned to get married next Friday," one of the brothers' relatives told Ynet at the mourning tent, where hundreds gathered. "He was very happy and looked forward to that day."

Majdal Shams, which is located on Israeli territory in the northern Golan Heights, is only a few kilometers away across the border from Hader, and is known to be pro-Assad.

"We were very sad to hear about the death of the shahids," a relative said. "It remains unclear to us why they were shot, despite the version we heard from the Israelis."

The brothers' father, Walid Mustafa, was a security prisoner in Israel in the 1980s and died in 2009 from health problems. After his release from prison, he left Majdal Shams and moved across the border to Syria.

"His two slain sons infiltrated Syria because of difficulties and political persecution," a relative claimed.

"There was no reason to kill them," another relative said. "The Israeli government is likely trying to find a way to attack in Syria on the expense of human lives."

Social media pages associated with the Syrian regime released on Monday morning the names of the four terrorists killed. A Lebanese news site reported the four were Syrian nationals who were part of the Syrian Resistance organization formed in the area and trained by Hezbollah. The other two killed terrorists were also from Hader.

Syrian Resistance sources told the Lebanese site the four terrorists were part of the al-Quneitra Martyrs' group. Arabic-language Sky News, however, quoted sources saying the four were working under Hezbollah.

Meanwhile, Lebanese media reported that the IDF increased its patrols and presence on the Israel-Lebanon border on the day after the attack on the Israel-Syria border area.

Hassan Shaalan, Roi Kais and Elior Levy contributed to this report.