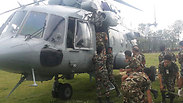 IDF rescue forces in Nepal
Photo: Itay Blumenthal
On Monday night, Home Front Command teams starting setting up a field hospital in Nepal near a local military hospital which was damaged in the deadly quake that has put the region ruins and left over 4,300 dead.
Soldiers from the Nepalese army welcomed the Israeli soldiers and loaded onto trucks the equipment and medicine brought by the soldiers from Israel. Some 120 IDF medical personnel, including 40 doctors, will begin on Tuesday to provide medical assistance to Nepalese injured in the quake.
Foreign Minister Avigdor Lieberman spoke with Nepal's Minister of Foreign Affairs Mahendra Bahadur Pandey on Tuesday and expressed Israel's sorrow over the deadly disaster that struck the country. The two discussed Israel's help in rescue efforts and its provision of medical assistance.


Lieberman thanked his counterpart for the support the Nepalese authorities have been providing to Israelis and requested permission to deploy planes Israel rented from India and China to rescue Israeli citizens. The Nepalese Foreign Minister approved the request and said that the Nepalese people appreciate the help offered by Israel.
Related stories:
Among the other representatives in the delegation is Dr. Krishna Kazchawa, who arrived to Israel from Nepal two years ago as part of his medical studies to specialize in orthopedic surgery at the Hadassah Medical Center in Jerusalem. Krishna told Ynet that the sights he saw on Saturday morning were "very difficult".
"When I heard about the disaster, I spoke with Professor Liebergall, Chair of Hadassah's Department of Orthopedic Surgery, and the Health Ministry to see if would be able to join the IDF delegation. It's the first time for me to be in the army…I'm glad and want to thank Israel for giving me the opportunity to help my people."
Another member of the team is Command Sergeant Major Iris Marzziano, who has served in the IDF medical corps for over 25 years and is in charge of transferring 61 tons of medical equipment and medicine to Nepal.
Marzziano, whose soldiers say she is the missions' 'mother', left four kids at home in Israel, two of which are soldiers in the IDF.
"My kids are very supportive, I feel I am on a mission and my kids are proud that I am here. Now they are a bit worried, which is understandable, but hey understand that I'm looking out for them – even from here."
The delegation took off Monday after a 12 hour delay due to damaged landing strips in Kathmandu caused by aftershocks following the calamitous earthquake that hit a day earlier.
According to the head of the IDF delegation, Col. Yoram Laredo, the rescuers could be in the field for two weeks. MDA paramedics arrived in Nepal earlier Sunday to treat premature infants who were brought to the Israeli embassy to prepare them for evacuation.
The IDF said it was sending the 260-member mission to provide immediate search and rescue assistance and medical aid.
"An advanced multi-department medical facility, equipped with approximately 95 tons of humanitarian and medical supplies from Israel and a medical staff of 122 doctors, nurses and paramedics, will be rapidly established in the city of Kathmandu to provide medical care for disaster casualties," the military said
The Foreign Ministry noted Tuesday that the number of Israelis staying in Nepal and defined as being out of contact has dropped to 50.
On Tuesday An El Al plane carrying some 229 Israelis who were stranded in earthquake-hit Nepal took off for Israel. On Monday, eight families with infants born through surrogacy in Nepal returned to Israel from Kathmandu, after fleeing the scene of the disastrous earthquake in Nepal that claimed thousands of lives.
"It felt like we were taken care of," one of the fathers said. "When they came to pick us up, it was like seeing angels."
Another father noted that there were "other two-week old babies who are still there. It's cold and rainy there, bring them back home."
Families with newborns land in Israel (צילום: ליארו פז)
The plane was sent by insurance companies David Shield and Phoenix, and was met by an ambulance in case of emergency.
A MDA delegation arrived on Sunday to assist in their rescue. "Our mission consists of three parts: first of all, reach the Israelis that are there and see with our own eyes that there aren't any wounded, give first aid if necessary, and see that all is well," said Dr. Rafi Strugo, Director of the MDA Medical Division.
In addition to the IDF delegation, the Israelife Foundation has been coordinating a Joint Disaster Response Team comprising of emergency medical personnel from United Hatzalah, SAR specialists from F.I.R.S.T. and recovery teams from ZAKA.
The joint team, which left Israel on Sunday, included a wide range of experts in their field with disaster response experience in Japan, Haiti and the Philippines. The multi-disciplinary teams will work together in squads with each member carrying out the tasks that they are uniquely qualified to perform and supporting the efforts of other team members as operational conditions require. A primary focus will be setting up local aid stations in outlying regions as well as extricating and evacuating victims to the stations.
Itay Blumenthal and Yoav Zitun are in Kathmandu, and Roi Yanovsky contributed to this report.