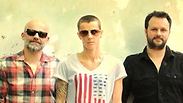 K's Choice members
PR photo
Belgian band K's Choice, one of the most popular rock groups in the 1990s, will return to Israel this summer for one concert at Tel Aviv's Barby Club on September 1, as part of a tour promoting its latest album, "The Phantom Cowboy," which was released last weekend.

This will be the band's eighth performance in Israel, and its fifth performance in the past five years, following the warm welcome it received from its local fans during its previous visits.

2010 Show

Belgian band back in Israel for two shows despite boycott calls, says local crowd 'best in world.'

The first 100 tickets for the show will be offered for NIS 189 (about $48), and the rest will be sold for NIS 209 ($53). A ticket purchased on the day of the concert will cost NIS 229 ($58).

K's Choice was founded in Antwerp in 1994 by siblings Sarah and Gert Bettens. The band's second album, "Paradise in Me," with the successful single "Not an Addict," brought international fame, which continued with the huge hit "Everything for Free" from the group's third album "Cocoon Crush," which was released in 1998.

K's Choice first visited Israel in 1999 as the support band for Garbage. It returned in 2000 upon the release of the album "Almost Happy." The band members went their separate ways in 2003, engaging in solo work and independent projects.

They reunited in 2010 and released their fifth studio album, "Echo Mountain." The band performed in Israel four times that year, and returned for another concert in 2012.

K's Choice is being brought to Israel by producer Asi Ron, who was responsible for its previous concerts in the Holy Land and for the arrival of other artists such as Ian Brown, Cypress Hill and Art Brut.