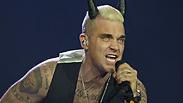 Robbie Williams performing
Photo: James Eppy
Former Pink Floyd member Roger Waters accused fellow British superstar Robbie Williams of "a chilling indifference" to Palestinian children in an open letter published Tuesday in Salon.

Williams is set to play a concert in Tel Aviv on May 2. Waters wrote that going ahead with the concert "would be giving your tacit support to the deaths of over 500 Palestinian children last summer in Gaza".


Waters acknowledged that he performed in Israel in 2006, "before (he) knew any better." According to Waters, he has spent nine years researching the Israeli-Palestinian conflict and that he believes that "BDS (Boycott, Divestment, and Sanctions) is the most viable, peaceful way to end the suffering of, and forge a better future for, all the people of the Holy Land."

Waters further stated that Williams was a hypocrite as "UNICEF's UK ambassador and a declared supporter of its Children in Danger campaign." He added that the Tel Aviv concert "gives succor to Netanyahu and his regime, and endorses their exceptionalist and deadly racist policies."

He wrote that if Williams does not cancel the show, he should terminate his work with UNICEF.

In a recent interview, Williams told Ynet that Israel was the place he was most looking forward to visiting on his current tour.

Waters has previously called on other musicians, like Alan Parsons and Neil Young, to cancel shows in Israel.

In 2013, Israeli audience members at a Waters concert in Belgium were shocked when "a black balloon in the shape of a wild pig was released to the sky, on it a Star of David, in the company of symbols of dictatorial organizations and regimes from around the world".