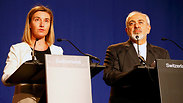 EU foreign policy chief Federica Mogherini with Iranian Foreign Minister Mohammad Javad Zarif
Photo: Reuters
The European Union's top diplomat on Tuesday voiced the hope that Iran would play an important but constructive role in a renewed United Nations push to restart negotiations aimed at ending the four-year civil war in Syria.

The UN envoy to Syria, Staffan de Mistura, has said he will begin meeting in May with the country's government, opposition groups and regional powers including Iran to assess by the end of June whether there is any hope brokering an end to the war.

EU foreign policy chief Federica Mogherini, who meets Iranian Foreign Minister Mohammad Javad Zarif later in New York on Tuesday, said it was crucial that the EU and six world powers successfully conclude nuclear talks with Tehran, which she said could boost Iran's regional role in a positive manner.

"The best possible approach you can have is ... on one side have a positive outcome of the nuclear talks so that we can be sure that they cannot develop a nuclear weapon," she said.

"On the other side, call for Iran to play a major, major but positive, role on Syria in particular, to encourage the regime to ... (support) a Syrian-led transition," she said, referring to a 2012 UN plan for a political transition in Syria that has yet to be translated into reality.

The deadline for a final nuclear deal with Iran is June 30. Iran and the six powers reached a tentative deal on April 2.

UN Secretary-General Ban Ki-moon asked de Mistura earlier this month to "focus much more to re-launch a political process" after his attempt to broker a local truce in Aleppo failed to materialize.

The United States and some Arab countries have resisted the inclusion of Iran in Syrian peace talks, because they see Tehran as the problem, not the solution. Iran has been supporting Syrian President Bashar al-Assad, a staunch ally.

Mogherini suggested that including Iran was crucial. "I understand very well the concerns of many Arab countries, not only Arab countries, in the region on the role of Iran," she said. "But I am also convinced that it would be naive to imagine that a country like Iran could simply disappear from the map."

Mogherini will also meet US Secretary of State John Kerry in Washington on Wednesday. She said she will discuss disagreements on sanctions and other sticking points in the nuclear talks with both Zarif and Kerry.