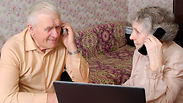 Illustration
Photo: Shutterstock
Samsung and Israeli startup Mybitat announced Tuesday plans for joint development of an innovative smart home solution aimed at helping the elderly stay safe while at home.

Mybitat, a startup focused on "Internet of Things" is working with Samsung's Strategy and Innovation Center in Silicon Valley to develop technology that combines advanced sensors, cloud-based software and behavior analytics to monitor seniors' daily routine and wellness. The goal, they said in a statement, is to allow elderly individuals greater flexibility in controlling their living environment.

Using Mybitat's analytical tools, along with new sensors and intelligence algorithms developed by Samsung, the end product will be able to recognize changes in clients' behavior or health and even alert remote caregivers if help is required.

The companies plan to deliver technology that can improve an individual's quality of life as they age by allowing them to live at home securely and more independently. The solution is aimed at easily transforming a home habitat and tailoring it for aging baby boomers or their independent parents.

"Samsung believes the senior population can benefit from new technologies to improve their quality of life," said Samsung's Curtis Sasaki.

"Our work with Mybitat has the potential to make key elements of the aging process significantly easier on individuals and families."

"We believe current systems for managing aging require significant improvement," said Mati Kochavi, Mybitat founder.

"We want to redefine these systems and offer affordable options that open up new possibilities for aging individuals. This collaboration with the Samsung Strategy and Innovation Center will help us to accelerate the day when more seniors can live their lives with improved health in familiar, comfortable surroundings."

Mybitat's mission is to provide a life changing solution for senior citizen's habitats. Mybitat technology leverages the analytics to turn information into actionable knowledge and insights.

This is the first time such a platform will be used to tailor a solution for consumers, in their homes, after multiple successful projects in the Smart City space. Mybitat was recently funded by Moonscape ventures.