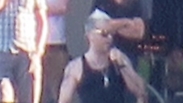 Robbie Williams at Tel Aviv's Yarkon Park
On Saturday night, Robbie Williams will take the stage at Tel Aviv's Yarkon Park and perform in front of his Israeli fans in his very first concert in the Jewish state.
On Friday afternoon, the British pop star arrived at the venue, wearing a sleeveless black shirt, basketball shorts and sneakers, and conducted sound checks ahead of the show.
Show of the Millennium
British pop sensation issues short video inviting Israeli fans to his May 2 Tel Aviv concert: 'It's like a first date. I've got butterflies in my stomach.'
During the short rehearsal, Williams performed four songs, accompanied by a band of 18 musicians.
Watch him perform "The Road To Mandalay", "Strong", "Bodies", and a cover of Lorde's "Royals".
Robbie Williams rehearses for concert
Williams defied calls by Israel-boycott supporter and Pink Floyd front-man Rodger Waters, who urged him to cancel his show or give up his role in UNICEF. Waters accused Williams of "a chilling indifference" to Palestinian children in an open letter published Tuesday in Salon.
In a recent interview, Williams told Ynet that Israel was the place he was most looking forward to visiting on his current tour.
With an amazing number of hits and after selling close to 80 million albums and singles worldwide, 40-year-old Williams is known as a great performer.

The Stoke-born singer began his career at the age of 16 with British boy band Take That, which became a huge success around the world. In 1996, he left the group and launched his solo career. A year later he released his first album and quickly rose to fame. He began cooperating with songwriter Guy Chambers, and the two released one hit after another.