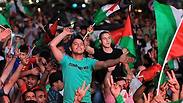 Palestinian fans
Photo: AFP
The Palestinians will seek Israel's expulsion from world soccer's governing body at this month's FIFA Congress, FA president Jibril Rajoub has told Reuters.

Last year Rajoub agreed to drop a resolution urging delegates to take sanctions against Israel at FIFA's Congress in Sao Paulo but he said on Friday he would press ahead with the same proposal in Zurich on May 29.




He added he "would not make the concessions" he made when withdrawing the proposal a year ago because nothing had improved in the way Israel "were persecuting Palestine footballers, athletes and the movement of sporting equipment".

"Enough is enough," Rajoub said after attending the signing ceremony of a Memorandum of Understanding between the Asian Football Confederation (AFC) and Union of Arab Football Associations (UAFA) aimed at building more cooperation between the two organizations.

"Last year we dropped the resolution when Europe got involved and the Israelis promised to co-operate in improving the situation," said the Palestinian FA chief in the Bahrain capital Manama.

Rajoub slammed into the Jewish State's conduct in the region. "But one year on it is still behaving like the neighborhood bully, or worse. There is now a feeling Europe cannot sit back and ignore what Israel is doing any longer. Israel has humiliated all of those trying to help the situation and nothing has changed.|

"A year ago I agreed to drop the proposal, I will not do that again. The aggression towards our sportsmen and women in the West Bank and Gaza continues. It is hostile and racist and the time has come to take action," he added.

The Palestinians has already tabled its motion and it is on the Congress agenda.
Re-election bid
FIFA president Sepp Blatter has tried to resolve the crisis between the two neighbors. His best efforts have failed but he will not want the disharmony to blot Congress where he will seek re-election for a fifth term as president.

Asked if Blatter would go to Israel before May 29 to attempt to ease the situation, a FIFA spokesman told Reuters: "It is a possibility, not a certainty, but it is a problem the president would like to see resolved".

Rajoub met Blatter in Manama during this week's AFC Congress and is keen for the Swiss to seek a solution. However, he is not optimistic and is in no mood to back down again.

"This is the third year in a row this has come up, first in Mauritius, then Brazil and now again," he explained.

"I don't think anything will change in the next few weeks. We are close to crossing the bridge and no-one can stop us having the proposal on the agenda even if some people would rather it was not."

It would need a three-quarter majority of FIFA's 209 members for Palestine's proposal to succeed and Rajoub believes it will happen. "Don't think just because Israel is in Europe that Europe will support Israel any longer," he said, referring to the country's footballing ties.

"I think (UEFA president) Michel Platini, who has backed Israel in the past, has had enough. He sent us sports equipment which was held by Israel for 16 months and we had to pay $32,000 to get it. Europe has had enough, Africa, Asia and us. The time has come," added Rajoub.