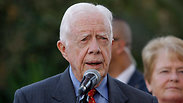 Carter visiting Ramallah
Photo: AP
Former US president Jimmy Carter on Saturday urged Palestinians to hold elections to end the de facto division of the West Bank and the Islamist-run Gaza Strip.

He was speaking at a joint news conference with Palestinian president Mahmud Abbas in the Palestinian capital of Ramallah in the West Bank.

"We hope that sometime we'll see elections all over the Palestinian area and east Jerusalem and Gaza and also in the West Bank," said Carter, a member of the independent Elders Group of global leaders.

No election has been held in the Palestinian territories for nearly a decade. Abbas's presidential mandate expired in 2009, but he remains in office since there has been no election. The Palestinian parliament has also not met since 2007.

In 2006, a year after Abbas was elected, Hamas won the most recent Palestinian legislative elections. Differences between Abbas's Fatah party and the Islamist Hamas then led to the so-called "inqissam", or division.

Despite the rivals signing a reconciliation agreement a year ago, Hamas is reluctant to hand over power in Gaza to an independent Palestinian unity government they formed. Carter had also planned to go to Gaza, but the visit was cancelled at the last moment.

He said it would be "very important" for "full implementation of the agreement reached between Hamas and Fatah". Carter was accompanied by Norway's former prime minister Gro Harlem Brundtland.

She said that despite not being able to visit the impoverished Palestinian enclave devastated by last summer's war with Israel, "we have had a chance to discuss with people who know the issues in Gaza".

Reconstruction of the coastal territory has not begun eight months after the end of the conflict, the third in six years.

The Elders Group said ahead of the trip by Carter and Brundtland that they were visiting "in a renewed push to promote the two-state solution and to address the root causes of the conflict" in the Middle East.