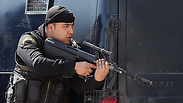 Site of terror attack on foreign tourists at Tunisian museum
Photo: AFP
Prime Minister Benjamin Netanyahu said on Saturday Israel had learned of "concrete threats" of terror attacks against Jewish or Israeli targets in Tunisia.
The Tunisian government quickly denied the claims, saying no such threats existed.
A statement from Netanyahu's office said: "Information indicates that there are plans for terrorist attacks against Israelis or Jews in Tunisia."


But a senior official in the Tunisian interior ministry, who asked not to be named, told AFP: "We have nothing on that. There are no threats."
The threats are connected to the Lag BaOmer Jewish festival, which will be celebrated on May 7, Netanyahu's statement said.
It urged Jews not to visit Tunisia during the festival.
Thousands of pilgrims visit the tombs of famous rabbis for Lag BaOmer, including on Tunisia's holiday island of Djerba, where one of the last Jewish communities in the Arab world still lives.
Several thousand Jews from France and Israel make the trip to the island every year, where 19 people died in an attack on the ancient El Ghriba synagogue in 2002 blamed on Al-Qaeda.
The Israeli Counter-Terrorism Unit said it was advising people against visiting Tunisia in view of the "threats".
The Tunisian interior ministry official insisted the police and army were ready to ensure security.
"All measures have been taken... to ensure the success of the pilgrimage to El Ghriba," the official said.
Tunisia has been trying to reassure foreign visitors they will be safe since 21 tourists were killed in a jihadist attack on the Bardo National Museum in Tunis in March.