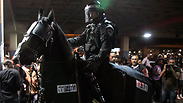 Police in Rabin Square on Sunday night
Photo: Reuters
The Ethiopian Israeli protesters who rioted in Tel Aviv on Sunday "crossed a red line", while police officers showed extraordinary restraint, a police official court Tel Aviv Magistrate's Court on Monday.
The officer was speaking during a remand hearing at Tel Aviv Magistrate's Court for 19 Israelis of Ethiopian descent who were arrested during the protests that had started off peacefully but later descended into violence.
Dozens of people were wounded in the protests Sunday night, most of them police officers. At least 26 people were arrested.
On Monday, large numbers of police officers and Border Police were stationed at each entrance of the court due to fears of further rioting.
During the hearing, a police spokesman said that "this was a protest that began without permission in the Ayalon freeway. The police's reaction was to enable the freedom of expression. I can't remember another instance when the police showed this much restraint. The police enabled the freedom of expression by blocking the Ayalon freeway and blocking main routes."
The police spokesman said that they could not allow people to be endangered or permit rocks to be thrown.
"Most of the arrests began at 10 pm," said the spokesman. "The protest crossed a red line. There are about 50 wounded police officers – a lot more than the (wounded) protesters."
Judge Samuel Melamed said at the hearing of one of the first detainees that he was suspected of throwing a bottle and stones at police officers.
"This suspicion is backed up by a memo that a police officer wrote when he arrested the detainee. There is a reasonable suspicion of an offense," said the judge, who extended the man's remand by one day.
Blame game
Police and members of the Israeli Ethiopian communtiy traded accusations of blame Monday, after a night of clashes in Tel Aviv that left dozens wounded, most of them police officers, when a protest against racism erupted into violence.
While demonstrators conceded that the protests spiraled out of control, they said that the police could have acted with more restraint. The police, however, said in response that the officers in Rabin Square had come under attack and that protesters had been treated more delicately than at any other such incident.
A special committee has been set up to investigate the events.
Meanwhile, protesters gathered outside the Prime Minister's Office in Jerusalem on Monday morning for another demonstration.
Prime Minister Benjamin Netanyahu held consultations in Jerusalem on Monday with members of the Ethiopian community, including the soldier who was beaten by police last week in an apparently unprovoked attack. Video footage of the assault caused fury in the community, which claims it has suffered institutionalized racism.
Netanyahu meets with IDF soldier beaten by police officer. (צילום: לע"מ)
President Reuven Rivlin, a strong advocate for coexistence and reconciliation in Israel, said Monday morning that while the protesters' arguments demanded a response, violence was not the answer.
Clashes in Rabin Square (צילום: איתי בלומנטל)
Related articles:
"The protesters, in Jerusalem and in Tel Aviv, revealed an open and raw wound at the heart of Israeli society," Rivlin said. "The pain of a community crying out over a sense of discrimination, racism, and of being unanswered. We must look directly at this open wound. We have erred. We did not look, and we did not listen enough. Among the protesters on the streets, were some of our finest sons and daughters; outstanding students; those who served in the IDF. We owe them answers.
"At the same time, it must be said in the clearest of terms. Protests are an essential tool in democracy, but violence is neither the way nor the solution. The demonstrators and the police notably maintained restraint throughout the protests, and we must not allow a handful of violent trouble makers to drown-out the legitimate voices of protest.
"We are not strangers to one another, we are brothers, and we must not deteriorate into a place we will all regret. On the eve of the formation of the new government, we all have an opportunity, and an obligation, to begin a process of healing and repairing of the faults, and of restoring the essential trust of the community in the law enforcement forces."
After an afternoon and evening of mostly peaceful demonstrations that left much of Tel Aviv gridlocked Sunday, protesters moved to Rabin Square, where clashes with police officers erupted.
Stones and other projectiles were thrown at police, and 56 officers were hurt, most sustaining light wounds, as well as 12 protesters. Forty three people were arrested, including one who tried to force his way into the Tel Aviv municipal building, which backs onto the square. Other rioters turned over a police car.
Police used forceful measures to disperse the crowd, including stun grenades and water cannons, turning the traditional site of peaceful demonstrations in Tel Aviv into something resembling a war zone.
Netanyahu met with Public Security Minister Yitzhak Aharonovich on Sunday night, and urged calm and a return to order.
"There is room to examine all the claims," he said, "but there is no room for violence and such law breaking."
Earlier on Sunday, hundreds of members of the Israeli Ethiopian community protested against discrimination and police brutality in Tel Aviv, chanting "Not black, not white, we're all human beings."
Protesters marched from the the Azrieli towers to Kiryat HaMemshala, the central government compound in Tel Aviv, shutting down traffic on the Ayalon Highway - the city's main ringroad - in both directions. They blocked the junction of Kaplan and Menachem Begin streets, while police closed other main traffic arteries in central Tel Aviv.
Noam "Dabul" Dvir, Gilad Morag, Eli Senyor and Yaron Kelner contributed to this report.