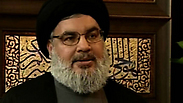 Hezbollah leader Nasrallah.
Photo: AFP
Syrian President Bashar Assad and his regime cannot fall, Hezbollah leader Hassan Nasrallah has said, as it would also mean the fall of Hezbollah and the so-called axis of resistance, Lebanese newspaper Al Akhbar, a Hezbollah mouthpiece, reported Tuesday.

Nasrallah's Lebanon-based organization has strong ties to the Syrian regime, and has dispatched its own fighters to join Assad's battle against Syrian opposition forces seeking to oust him. Together with patron Iran, Syria and Hezbollah make up the axis of resistance, with the Islamic Republic providing weapons, training and financial support for its two proxies on Israel's borders.

According to the report, Nasrallah made the remarks during a meeting last Thursday with Lebanese political ally Michel Aoun, a Maronite Christian who heads the Free Patriotic Movement party.

The report also said that Nasrallah indicated that the regime would not be able to reclaim every inch of Syrian soil conceded to the rebels. The Hezbollah leader also reportedly likened the fighting in Syria to a pendulum swinging between gains and losses.

Despite Hezbollah's intervention, the Syrian regime has lost control of vast swathes of the country in the four-year war.

Meanwhile, Lebanese newspaper the Daily Star quoted sources as saying that Aoun and Nasrallah had discussed the "need to maintain security and stability in Lebanon, given the ongoing grave developments in neighboring countries."

Related articles:

Aoun expressed his "full support for any steps Hezbollah might take to fight terrorists," the report said. According to the Star, the two men were joined by Lebanese Foreign Minister Gebran Bassil and Hezbollah officials Hussein Khalil and Wafiq Safa.

A statement from Hezbollah after the talks said Nasrallah and Aoun also discussed domestic politics, primarily the still unresolved presidential elections.

The two leaders also discussed "the terrorist takfiri (heretical Muslims) threat endangering the whole region, and highlighted the necessity of fighting it by all means to protect Lebanon and its stability," according to the report.