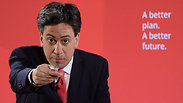 While the outcome of Thursday's general election in Britain has yet to be decided, one thing's for sure: The Labour Party has lost the support of many Jews on the isles – and primarily because of Ed Miliband, the party's Jewish leader.
A campaign underway in recent months among the British Jewish community is calling on its members not only to refrain from voting Labour, but also to cease making donations to the party.
Miliband, who was born and raised in a Jewish home, has voiced criticism of Israel in the past; but many British Jews view the Labour leader's pro-Palestinian stance over the past year as too extreme.
During Operation Protective Edge in the summer of 2014, Miliband described Israel's actions as "unjustified;" and then in October, it was his party that initiated the vote in Parliament to recognize the State of Palestine.
In a survey conducted among British Jews by the London-based weekly, The Jewish Chronicle, some 69 percent of the respondents said they were voting for the Conservative Party, with just 22 percent planning to cast a ballot for Miliband.
Related articles:
If his party wins enough votes to form a government, Miliband will become the second Jewish prime minister in British history. The first Jewish prime minister, Conservative Benjamin Disraeli, converted with his family to Christianity while still a child.
Miliband visited Israel last year, meeting with Prime Minister Benjamin Netanyahu and opposition leader Isaac Herzog, and holding a Q&A session with students at the Hebrew University in Jerusalem. He also visited the Yad Vashem Holocaust museum.
Meanwhile, the Labour Party is at the center of a new outcry in Britain, with just one day to go before the polls open, over claims that it had organized a campaign meeting in an area of Birmingham with a strong Muslim population, in which men and women were segregated.
The local media said that Labour officials had defended the move, saying it meant that women from the Muslim community could attend.