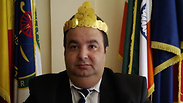 President of International Romani Union Dorin Cioaba.
For the average person, Dorin Cioaba's visit to Israel could seem like a visit similar to that of any foreign tourist. But Cioaba is not your average visitor – he is the self-declared king of three million Romani people around the world.

The king, elected president of the International Romani Union in 2013, is visiting Israel for a photography exhibition surrounding the life of the community.

Despite his prestigious position, the Roma king was stopped by border patrol at Ben Gurion International Airport upon his arrival to Israel because of issues with his paperwork. Cioaba was finally granted entrance into the country after the photographer behind the exhibition, Roni Ben Ari, intervened on his behalf.

Cioaba lives in Sibiu, a city in Transylvania, Romania. His subjects are spread out across Europe, with several living in eastern Europe, especially in Romania. There are 2,500 Roma in Israel and the Palestinian Authority.

The newly appointed king comes from a line of nobility and while he does not live in a castle, he does have a large apartment and made a fortune through copper trading. Just like any other king, Cioaba owns a gold crown which he wears to special occasions.

In August 2013, Dorin inherited the crown from his father Florin. Dorin has continued in the footsteps of his father, who fought various issues within the community, such as begging and underage marriage.

Cioaba has also worked to increase awareness of the murder of gypsies by the Nazis during World War II and has been negotiating with Germany in order to receive compensation.

Every few years, the Romani People gather for a congress to which various organizations are invited. They have political aspirations for independence and even hope to join the UN as a member, but so far they have failed to gain recognition.

The community has also worked to combat racism and prejudice against them in Europe. In recent years, they have strengthened their ties with Israel and even have a delegation that gets invited to participate in annual ceremonies in remembrance of the Holocaust.

On Wednesday, the king took a tour of the Old City of Jerusalem and visited the Western Wall as well as Christian holy sites in the city. Cioba's visit is private, and thus he came without his crown and did not set up any formal meetings.

The exhibition by photographer Roni Ben Ari, who lived for a year with a community in the Romanian city of Cluj, was inspired by his mother who is from the city and grew up among the Roma.

During her year spent with the community, Ben Ari learned about their culture, traditions, authentic food and aesthetics. Ben Ari received first place in an international competition which chose dozens of photos taken from all over the world.

The exhibition will be held at the Museum of Israeli Art in Ramat Gan.