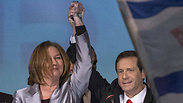 Tzipi Livni and Isaac Herzog
Photo: AFP
Zionist Union leaders Isaac Herzog and Tzipi Livni on Thursday sharply criticized the coalition agreement signed the previous day between Likud and Bayit Yehudi. "We will not be a fifth wheel and have no intention of saving Netanyahu from the hole he has dug for himself," said Herzog.

According to Herzog, the new government's agenda will result in damage to quality of life and the fabric of Israeli society; damage to woman's rights, gay rights, workers' rights and the media; incessant threats to the courts and rule of law; continuation of the political deadlock; and further transfer of billions to settlements.

"A government has been formed that has no responsibility, no stability, and no chance whatsoever to govern," said Herzog. "If this is how he handles negotiations with his natural partners, how will he negotiate with the Palestinians? With world powers?

"He just gave up everything he had and surrendered under Bennett's pressure. This is an example of how his political survival is more important than anything to him. That's not leadership – it's cowardice."

Herzog further said that "last night the countdown to form a government ended. This morning, the countdown to its replacement began.

Livni told Ynet that the party would sit in the opposition, "and that's a commitment.

"The prime minister only last night managed to form a new government of 61 MKs and this morning his advisors began to publicly court the Zionist Union," she said. "Governance is not handing out portfolios. An election campaign is not who will sit in which role, but how Israel will be led. We must be in the opposition and fight."

Livni stressed that she and Herzog have clear agreements and that decisions will be made in tandem. "Herzog agrees with me. This fight must take place in the opposition. I am not in politics for portfolios and honorary roles. I am here to continue our path and fight for it," she said.

Bayit Yehudi's Ayelet Shaked will replace Livni in the Justice Ministry, it was agreed Wednesday. Livni told Ynet that she hoped Shaked's rhetoric about the need to weaken the judicial system would not be put into practice. "There are profound differences regarding our understanding of democracy," she said.

Meanwhile, Yesh Atid Chairman Yair Lapid arrived with other party members at a protest by reserve soldiers outside IDF headquarters in Tel Aviv. "All the security heroes – Bibi (Netanyahu), Bogey (Defense Minister Moshe Ya'alon), and Bennett, are currently signing surrender agreements and are telling the public: The suckers will going to the army and going to work, and those who sit next to the plate will get an exemption because they managed to extort the coalition," said Lapid.

Moran Azulay contributed to this report.