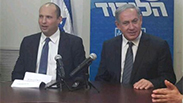 A day after securing the smallest of majorities in his bid to form a government, Prime Minister Benjamin Netanyahu on Thursday ordered the Likud MKs to arrive in full force for a vote Monday on amending the Basic Law: The Government, in order to increase the number of ministers in the cabinet.

The proposed government expansion would cost tens of millions of shekels per year, as it means not only an increase in the number of ministers, but also in new offices, new staff, and general office expenses.

The proposal needs 61 votes in Knesset in order to pass.

The law, which was successfully amended a year ago, limited the number of ministers to a maximum of 18, excluding the prime minister.

Voting on the proposal will occur before the identities of ministers from Likud are even known.

Netanyahu on Wednesday night reached a coalition agreement with Bayit Yehudi, which guaranteed him a minimal majority for a government, but saw him hand over key ministries to the rival party.

Under the terms of the agreement, Bayit Yehudi, which won just eight seats in the March 17 elections, will take the education, agriculture and justice ministries, and claim two seats in the sensitive security cabinet.

In addition to the three major portfolios, Bayit Yehudi will receive control over the Settlement Division and the Knesset's Constitution, Law and Justice Committee and one of its MKs will be appointed deputy defense minister.

Bennett also secured a commitment to implement the Prawer Plan on the arrangement of Bedouin settlement in the Negev as well as a promise to increase the budget of the university in Ariel.

In addition, Bennett received a NIS 630 million budget for the Ministry of Education to use, among other things, to increase hiring so that kindergartens have two assistants per teacher instead of one.

He further obtained a commitment that funds promised for the haredi population will come from the Ministry of Finance and not Education. On top of that, the coalition agreement determined that NIS 1 billion will go towards increasing the salaries of soldiers in their third year.