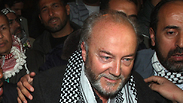 George Galloway, one of Britain's most colorful and controversial figures and an outspoken critic of Israel, has lost his Bradford West seat to the Labour Party, vote count on Friday morning showed.

Galloway won the seat from Labour in a 2012 special election. But some locals accused the left-wing firebrand - who once saluted Saddam Hussein and has appeared on a reality-TV show pretending to be a cat - of spending little time in Bradford, which has a large Muslim population.

The candidate from the tiny Respect Party lost by a wide margin to Labour's Naz Shah after a bitter campaign in the northern England city.

"I don't begrudge the Labour members here their moment of celebration of course," Galloway said in his defeat speech. "But there will be others who are already celebrating: the venal, the vile, the racists and the Zionists will all be celebrating."

Shah is a political newcomer who has overcome childhood poverty, a teenage forced marriage and the imprisonment of her mother for killing an abusive partner.

Shah had urged voters to reject Galloway because "we do not need a one-man Messiah to tell us how to come and fix up Bradford."

Galloway was also reported to police for allegedly breaking election law on Thursday, tweeting his own party's exit polls before voting had ended.

During Operation Protective Edge, Galloway announced his support of Hamas. He also told a group of activists at a meeting of his Respect Party in Leeds last year that he declared his constituency "an Israel-free zone," urging residents of Leeds "to do the same."

"We have declared Bradford an Israel-free zone," he said. "We don't want any Israeli goods. We don't want any Israeli services. We don't want any Israeli academics, coming to the university or the college. We don't even want any Israeli tourists to come to Bradford, if any of them had thought of doing so."

"We reject this illegal, barbarous, savage state that calls itself Israel. And you have to do the same," he concluded.

In 2013, Galloway walked out of a discussion on the Palestinian-Israeli conflict at Oxford, after learning that one of the participants was an Israeli student. "I don't debate with Israelis," Galloway said, got up hurriedly, got his coat, and stormed out.

Upon leaving he reiterated: "I don't recognize Israel and I don't debate with Israelis."

In 2010, Galloway went to Gaza as part of an aid delegation to the Palestinian enclave. He turned into a persona non grata in Egypt after he allegedly incited rioting in Arish on his way back from Gaza to London through the Sinai Peninsula.

In 2009, Canadian immigration authorities denied him entry to the country due to his support in terror organizations like Hamas and Hezbollah.

Liberal Democrat lawmaker David Ward suffered a similar loss in Bradford East to Labour's Imran Hussain. In 2013, Ward was suspended after describing Israel as an "apartheid state" whose future is in doubt after "inflicting atrocities on Palestinians."

Itamar Eichner and Ynetnews contributed to this report.