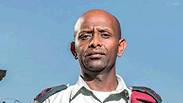 Tamir Elazar. 'I am Ethiopian and I am Israeli'
Photo: Tal Shahar
'In war no one refers to the color of your skin'
At the age of 8, Tamir Elazar walked from Ethiopia to Sudan to reach Israel. At 11, he heard his first racial slur, and struck back. Today a lieutenant colonel in the IDF, he understands the reasons for the recent protests by the Ethiopian Israeli community, and has a message for them.
Lt. Col. Tamir Elazar remembers the first time he heard the words "Ethiopian nigger." It happened when he was 11, a student at Talpiot boarding school in Hadera.
"A classmate fought with me because I broke his pen, and he said I was an Ethiopian nigger. Instead of being hurt, I hit him. After the break we went back to being friends. I remember it like it was yesterday. It burned me up, and I will not allow that to happen to me or my family."
Elazar, 40, began his military career as a combat paratrooper, and currently serves in a staff position for the Galilee Division of the Northern Command. He also studies at the IDF College of Command and Staff. The IDF takes pride in providing equal opportunities for all communities and sectors: There are currently three lieutenant colonels and 44 majors of Ethiopian origins. Lieutenant colonel is currently the glass ceiling, but Elazar believes it will be smashed.
"One of the two other lieutenant colonels is on the combat track, so there's a chance he will become colonel," he says. "I do not think I will make it, now I've transferred from combat roles to staff. I expect I will serve in the IDF for only a few more years, then I will leave."
And after that?
"I have a dream to do guided tours. I love the country and I'd love to show it to people."
The demonstration in Tel Aviv this week by Ethiopian Israelis, which started out peacefully but ultimately ended in violence, was shown on television.
"I'm in uniform, and therefore under general staff orders not to participate in the demonstrations. I debated with myself whether to go, and I finally decided that I was representing the army so I didn't, but yes, it hurts me like everyone else. I understand the frustration. Although I have never encountered direct racism since that event at boarding school, I hear it's happening to my colleagues. The demonstration put the issue on the agenda. Now we have to look at the problem. It exists. Fact."
Is Israeli society racist?
"I don't want to answer the question."
So I'll tell you yes, Israeli society is racist.
"If you say the conduct towards the Ethiopian community is racist, then you're right. Each of us needs to accept differences and the other. I am proud to be Ethiopian. I am connected to the community and try to help as much as I can the young people who want to enlist.
"When I saw the pictures of the demonstration, I was deeply disappointed in the conduct of Israeli society. I am angry at it for not being willing to accept us. As a society, we must deal with this. On the other hand, I condemn the violence that occurred there. I understand the frustration, but there are other ways to express anger."
Have your children experienced the kind of abuse you suffered at boarding school?
"They have not told me about any such experiences. They go to a normal school and their friends are white; in other words, Israelis with skin color different to theirs. I myself dated a white girl. Actually, it was a Yemenite woman, so her skin tone was close to mine. In the end we separated, and I married a member of the community, but my cousins are married to Ashkenazim."
The brother of Damas Pakada, the soldier who was beaten by the police, had started training in order to enlist in a combat unit, but stopped after what happened to his brother. He lost faith in the system. What are your thoughts on that?
"If he were to talk to me, I would tell him that he should choose the right path for his future. I can understand him, but it's worth knowing that the army allows everyone to advance according to his abilities."
We buried, we cried, we carried on
Elazar is married with two daughters and a son, and lives in Migdal Haemek. He immigrated to Israel in 1984, at the age of eight.
"My grandfather immigrated in 1979," he says, "and five years later returned to Ethiopia to bring his mother to Israel. On that occasion he took brought me and my brother. Our parents stayed and arrived three years after us."
The route to Israel included a grueling hike from Ethiopia to Sudan, which took eight months.
"We walked with route leader who received money. We walked at night and rested by day. It was hard. I remember especially the heat and thirst where we crossed the border to Sudan. There were other difficulties: we were robbed on the way, beaten; there were also young people who died, who could not cope with the journey. Even my cousin's sons were among them. We buried them, we wept and carried on walking. My great grandmother died at the transit camp in Sudan. Even there, we buried her, we wept and kept on walking."
At the camp, he saw his first white man. "There were United Nations tents, and out of one of them came a white man. I remember thinking that he was dangerous, ill, despite healthy human behavior. I asked my grandfather, and he told me that there white people. I remember as a child I felt sorry for him, that he was alone among so many dark-skinned people. When I came to Israel, I found out that they were not the minority, but we are."
The landing itself was exciting for him. "They hugged us and enveloped us with love," he recalls. Immediately afterwards he encountered an Interior Ministry official who asked him his name. He replied: "Takele." The official said: "Let's find the closest Israeli name to it. Tamir. This will be your name."
"Only my mother calls me by my Ethiopian name, which means, 'addition', that is, a good addition to something," says Elazar. "Everyone else calls me Tamir. I got used to the name."
Were you angry at your parents for sending you here alone?
"I do have questions for them, which I have never asked. It has gone through my mind more than once whether they would have forgiven themselves if I had not survived the journey, as happened to other children. Until now I have not asked them what their considerations were in sending me alone. It is still in my soul. This week I talked about it with friends on the course and I said it was a circle I have to close."
After his arrival, Elazar was sent to boarding school in Hadera, and from there to high school on Kibbutz Sa'ad. After high school, he joined the military preparatory school and then enlisted in the 202nd Battalion of the Paratroopers. He participated in Operation Cast Lead in 2008, and other military operations.
"In war no one refers to the color of your skin," he says. "The IDF treats soldiers equally, and is color blind. You progress according to your skills and abilities."
Still, there is a high rate of desertion among the Ethiopian community.
"First, the percentage is declining. Secondly, a soldier comes with baggage and from a culture. In most cases, his parents did not serve in the army and do not understand the military experience. The soldier enlists, and if he does not get exactly what he wants, he calls home and says he is coming back. The parents, who are not well-versed and do not understand the significance of desertion, accept it without asking. If one of them calls me, I tell him to stay where he is. If necessary, I will also talk to their commanders and try to help."
This is culture? This is values?
Last September, he visited his homeland as part of an IDF delegation comprised mainly of Ethiopian officers.
"When I arrived in the Ethiopian villages, I blessed my good fortune, and said thank you that I did not stay there and that I lived in Israel. On the other hand, I saw the joy of the villagers within the poverty in which they live. This visit gave me proportion. It also helped me realize that each of us must give to the community as much as he can, from a place of strength. We have good guys in the community, well educated, and they can contribute. It is in our hands."
When do you feel Ethiopian?
"When I look in the mirror. I live in peace and acceptance with myself. I am Ethiopian and I am Israeli, and what drives me is not my skin color, although the color of my skin made me strive to excel in everything I did. For example, I completed the squad commanders' course with honors."
Op-ed: Xenophobia is not only rooted in Israel – it is also encouraged by politicians on the eve of elections. The young protestors are forcing Israelis to look in the mirror, and it's not a pretty sight.
How do you explain the fact that other Ethiopian officers did not want to be interviewed, for fear of being seen by the community as prospering while others are in difficulty?
"I can only speak for myself. I am not a spokesman for the community and I was appointed to my position. I have come to present a military microcosm, which allows for equal opportunities. Those who do not want to be interviewed have their own reasons."
Towards the end of the session, when I tell him I witnessed an insulting attack on a member of his community, the gloves come off and he launches into a pained and vulnerable monologue.
"In my mind, I'd like society to show the community understanding and allow for equal opportunities. Are Ethiopians parasites? They are human beings. Why are they discriminating against us? Because of the color of our skin? As long as we are judged on skin color, it will never end, certainly not in my generation. As long as the wrongs are not righted, qualified young men and women will not be allowed to progress.
"You are there, you should know that there is another, but he is a Jew like you. He and I will fight alongside you. I'm also willing to die for my country. But if my blood is good enough for the country, I am also good enough for other things. It cannot be that in the army we are all brothers and friends, and afterwards they do not recognize us.
"This is a culture? This is values? A class distinction based on skin color? Tell me, are you crazy? To me this is unacceptable, and it will do the country no good."
Do you think there will be more protests?
"The incident with the soldier who was beaten was the straw that broke the camel's back. In the past, there were demonstrations, one of which my wife also took part in, but not every demonstration is a seminal event. This time it was."
What message do you have for your fellow members of the community?
"I speak to you as Takele, and say: Do not be discouraged. You are good and talented. Take pride in who and what you are."