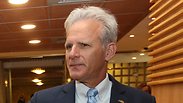 Kulanu MK Michael Oren had to cancel flight to Lisbon
Photo: Gil Yohanan
The coalition issued a sweeping directive to all of its members to not schedule any appointments in the coming week ahead of a Knesset vote on a bill to extend the government.

"If just one member of the coalition doesn't show up, we won't have the required 61 MKs majority to swear in the government, which will send (Prime Minister) Netanyahu back to the President's Residence," a Likud official said.

The first coalition member to be affected by the new directive is Kulanu MK Michael Oren, who was scheduled to fly to a conference in Lisbon on Saturday night to represent the Knesset. Oren's flight was cancelled, and so were the flights of several Likud MKs.

In the past, coalition and opposition MKs would cover for each other, coordinating their absence when they could not show up for votes in the plenum.

But during the previous term, and likely during the upcoming term, the opposition decided to no longer allow its members to cover for coalition MKs.

"Welcome to hell," Zionist Union's Eitan Cabel wrote on his Facebook page on Saturday night, saying the opposition plans to have all of 59 of its members present in every vote, to force the coalition to also be fully present - including Prime Minister Netanyahu, Defense Minister Moshe Ya'alon and Knesset Speaker Yuli Edelstein.

"We won't allow any members of the opposition to cover for coalition members, and urgent humanitarian cases will be brought to me for approval," Cabel said.

The opposition is also planning to hold a filibuster in order to exhaust its rivals ahead of the Knesset vote on Monday to extend the government.

Several members of the opposition plan to request to speak at the plenum to present their objections to the motion, as well as submit objections to every detail of the bill in every stage of its approval process.