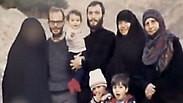 Family photo taken of Mughniyeh family in 1987.
Imad Mughniyeh, the former commander of Hezbollah's military wing, was killed in 2008 in Damascus, his son Jihad was killed several months ago in an alleged Israeli strike in Quneitra and his cousin Marwan was killed just a few days ago during battles in the Qalamoun region in Syria. However, as it turns out, this was not the last the world would hear of the Mughniyeh family - Mustafa, another son of Imad, is now considered a rising figure in the Hezbollah organization.

Last weekend, Syrian opposition sources said that Imad Mughniyeh's cousin, Marwan Mughniyeh, was killed along with eight other operatives in fierce battles taking place in the Qalamoun region. Marwan, it was reported, had been in charge of a special Hezbollah unit operating on Syrian territory, apparently as part of the Radwan force, a special operations unit of Iran's Revolutionary Guards.



Although the focus last weekend was on Marwan Mughniyeh, indications recently emerged that an additional family member has been branded as an up-and-coming figure in the organization - Mustafa Mughniyeh. Unlike his brother Jihad, the 27-year-old Mustafa has remained far from the spotlight.

Intelligence analyst Ronen Solomon has researched Hezbollah's intelligence and security apparatuses and has been following the actions of Mughniyeh's eldest son, said Mustafa has barely been mentioned in the media before.

"The 1980's were the years when Mughniyeh spent time at a Quds Force camp near Tehran," Solomon said.

"At the time, he was pursued by foreign intelligence services after he stood behind deadly terror attacks against Western and Israeli targets, which claimed the lives of hundreds of people. In 1982, Mughniyeh opened a security guard company in Lebanon and married his cousin Saadi Badr Al Din – the sister of Mustafa Badr Al Din, who was appointed Hezbollah's military commander. In 1984, their first daughter, Fatima, was born," Solomon told Ynet.

During those years, Mughniyeh had tried to secure the release of his brother-in-law Mustafa Badr Al Din, who was arrested following the attack on the American Embassy in Kuwait in 1983.

"In January 1987, when Mustafa was still in jail in Kuwait, Imad Mugniyeh's eldest son was born. He named him Mustafa, after his wife's brother – it's clear this wasn't a coincidence," Solomon said.

"During that same year, Mughniyeh senior's parents came for a visit in Teheran and were photographed with the whole family, apparently to mark Mustafa's birthday, who was born that year. (Mustafa) was not included in the picture and until today there is not one single photo of him," he added.

A year later, Badr Al Din managed to get out of jail in Kuwait and arrived at the Iranian Embassy, while taking advantage of the chaos following the invasion of Kuwait by then-Iraqi President Saddam Hussain.

According to Solomon's investigation, while Mughniyeh senior was in charge of Hezbollah's military and operational activities, Mustafa had been training in Iran: "In 2005, he was 18 years old – the age when one completes basic military training in Hezbollah and is sent to specialize in a certain field. At the same time, Mustafa began joining his father on operational missions, and hence received an informal education.

"Meanwhile, the relationship between Mustafa Mughniyeh's mother, Saadi, and her brother, Mustafa Badr Al Din was maintained at all times. Proof for that is shown in the findings from the investigation on the assassination of Rafic Hariri, the former prime minister of Lebanon, which included documentation of thousands of conversations between the two. The history of their relationship ended up playing an important role after Imad Mughniyeh's assassination."

After the death of Mughniyeh senior, an interesting process began to unfold. As Jihad Mughniyeh, the youngest son, was becoming more publicly known, the oldest son Mustafa continued to stay a mystery, with few mentions in the media.

A few months after the assassination of Mughniyeh senior, it was reported that Mustafa became a father to a son in Beirut who they named Imad after his deceased grandfather.

Four years later, during a broadcast by the Lebanese satellite TV station Al Manar in honor of the anniversary of Mughniyeh's death, Mustafa's son was interviewed wearing a military uniform. Imad junior was accompanied by the parents of Imad Mughniyeh senior, but his father Mustafa was nowhere to be seen.

Al Manar interview with Imad Mugniyeh's grandson ( )

Ibrahim Al-Amin, an editor of a Hezbollah journal, said in January that the rest of the family had expected Mustafa, the eldest son, to publicly announce his father Imad's death. However, Mustafa answered that he was not the right man for the task and instead the task fell on young Jihad, who, up until then, was taken less seriously compared to Mustafa.

"Nobody expected that he would go out in public like a man (he was 18 at the time)," wrote Al-Iman in his article. His appearance can indicate the potential the rest of the family saw in Jihad, who was recruited into Hezbollah operations shortly afterward.

"Unlike his father and Mustafa, everyone knew Jihad Mughniyeh. They gave him positions related to security, which is part of the Mughniyeh family's genetic makeup," says Solomon.

Meanwhile, Mustafa became the protégé son and confidant of his father's successor, his uncle Mustafa Badr Al Din, for whom Mustafa he was named after. Mustafa Mughniyeh is mentioned as having a role in coordinating the movements of Hezbollah leaders in Lebanon, Syria and Iran, and entrusted with their personal security. Furthermore, he is said to provide vehicles for his uncle Badr Al Din and his personal security.

"Mustafa Mughniyeh the son got involved with Badr Al Din's security apparatus which deals more with securing operations," Solomon said. "As history shows, whoever went up the ladder to participate in secret Hezbollah operations, first held positions related to the personal security of various key members of the organization. It can be presumed that Mustafa's identity has been kept mysterious, as opposed to his brother, to ensure that in the future he will be included in secret missions, such as those carried out by the 910 unit (Hezbollah's unit in charge of overseas attacks), led by his uncle Mustafa Badr Al Din."

In August 2011, Mustafa's name emerged in connection to a mysterious explosion that took place in a southern suburb of Beirut, known as a Hezbollah stronghold. In the beginning, it was reported that the explosion was intended to target Samir Kuntar - a member of the Palestine Liberation Front, who was convicted of murdering the Israeli Haran family in a terrorist attack in 1979.

Later on, it was believed that it was actually Mustafa Mughniyeh who had been the target of the explosion. The building that was blown up was used by Mughniyeh as an office. The explosion resulted in the death of Mustafa's security guard and another individual was wounded.

During that time, Hezbollah began to believe that a foreign agent had infiltrated their security apparatus and that Mustafa Mughniyeh's name had been leaked along with several other Hezbollah members. It is possible that the foreign agent who had operated against the organization was high-ranking Hezbollah official Mohammad Shorba - who is now known to have worked with the Mossad and CIA during those years.

Unlike the close ties between Mustafa Mughniyeh and his uncle Mustafa Badr Al Din, Imad Mughniyeh senior had a shaky relationship with his brother-in-law, primarily due to reasons circulating around Imad's first wife Saadi - Badr Al Din's sister. According to the rumors, Saadi was upset when Imad married his second wife, an Iranian woman named Wafa.

While Mustafa is still rarely heard of or seen in the media - he was last mentioned to have been treated at a Hezbollah-associated hospital in Beirut for a blood disease - he is still considered to be the next rising Mughniyeh family member.