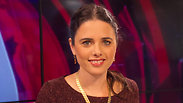 Ayelet Shaked
Photo: Ido Erez
The Knesset has assigned a security detail for the incoming justice minister Ayelet Shaked (Bayit Yehudi), after recent incitement against her on social media, including a Facebook post depicting her in Nazi SS uniform.
The decision was made by Knesset Speaker Yuli Edelstein, in conjunction with the parliamentary body's security officials.
"We were shocked to see specific threats to Shaked's life," Edelstein told Army Radio on Monday.
"A picture of her in SS uniform was published. The Knesset officer decided to put a security detail on her. We will not allow threats on MKs, no matter their political view," Edelstein vowed.
Many posted comments about Shaked's somewhat surprising and controversial appointment on social media. Some of the comments have been extremist in nature and have led some to believe that further incitement may ensue.
A pro-Palestinian Facebook page named Toto Che Handala posted the picture on Shaked's wall on Monday, depicting her in an SS uniform, claiming she opposes any peace agreement with the Palestinians and supports their "genocide." The Facebook page has since been shut down.
The images of Israeli politicians photo-shopped into SS garb hold particularly disturbing connotations in Israeli political history. Before prime minister Yitzhak Rabin was assassinated in 1995, posters of him in SS uniform were circulated at some anti-government demonstrations, which were considered to be part of the atmosphere of incitement that eventually led to his assassination by Yigal Amir.
In January 2015, Fatah published a photo of Prime Minister Benjamin Netanyahu wearing an SS uniform on its Facebook page.
Several other Israeli politicians from both the right and the left have been portrayed in such a manner, including the Zionist Union's Tzipi Livni and Yesh Atid's Yair Lapid last November in a Facebook post criticizing their political views.