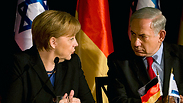 Netanyahu and Merkel in Jerusalem. No consensus about Israel's legitimate borders.
Photo: AP

Everybody needs friends, real friends. Bonds of friendship provide emotional stability and moral guidance; they support us in times of need, when we face internal turmoil, external hurdles or when we feel lost in the world. Friends are not only good company but existential anchors which give us a deep sense of security that tames our anxiety in an uncertain world. This is true not only for individuals, but also for states and the people they contain and represent.
Does Israel have real friends in the world of states? Has it established lasting bonds of friendship with other nations? Not among its neighbors. Your enemy's enemy is not your friend; friendship is not a temporary and strategic relationship built on logics of negative identification. It is a profound, positive and productive relationship based not merely on overlapping interests but a meeting of minds. Friendship is a special relationship where two sides seek, find and invest in a deeper connection.
One might say such a relationship exists with the two most powerful states in the Western world, the United States and Germany. After all, apart from being important trading partners, official rhetoric in Jerusalem, Washington and Berlin regularly affirms their "true friendship."
Both the US and Germany support Israel financially and militarily and there is close cooperation between intelligence agencies; both usually stand with Israel on the international stage, whether that is the US blocking resolutions in the UN Security Council, or Germany not following the recent wave of European parliaments calling for the recognition of a Palestinian state. Yet while this makes the US and Germany allies of Israel, does it amount to friendship? In my understanding it does not.
To be sure, friendship is a complex phenomenon and there is no blueprint for it. But so much is clear: It is a bond marked by mutual trust, honesty, solidarity and reciprocity. And this bond is not based on shared commercial or security interests, let alone nice rhetoric. Rather, it is formed out of a shared worldview, above all a common vision that manifests itself in a project both sides feel attached to and are committed to invest in.
50 Years On
Op-ed: While most Israelis have made peace with the Germans, most Germans feel animosity bordering on hatred towards Israel.
In this commitment, both sides regard each other as equals and practice a unique logic of reciprocity in which there is no debt but mutual trust that each contributes as much as it can. As such, the project binds friends in creative and productive endeavor that benefits both. But it also, inevitably, compromises sovereignty.
The contours of such a project may be visible in Israel's relations with both Germany and the US, but it has not come to fruition. The 'crises' we observed in both relationships in recent years are indicative of this. While disagreements and disputes do exist among friends, the tensions exposed that there is no shared vision capable of creating and sustaining bonds of real friendship.
Israel's relationship with Germany illuminates the problem clearly. Three important commemorative events this year – the 70th anniversary of both the liberation of Auschwitz and the end of the Second World War, and the 50th anniversary of diplomatic relations between Israel and Germany – remind us that both states emerged out of a historical trauma and have seen a remarkable journey in reconciliation and the establishment of positive links. And yet this journey did not generate a friendship, because it has not succeeded in turning that historical connection into a shared project around which true friendship can form.
The problem is twofold. First, the special relationship is grounded in the memory of the Holocaust, the darkest chapter in both German and Jewish history. While the shared commitment to preserve the memory of the Holocaust and to ensure that something like it will never happen again is paramount, it fixes the relationship in history and in a hierarchy.
It locks in a clear role-distribution of representing victims (Israel) and perpetrators (Germany), and thus an unequal relationship in which Israel holds the moral high ground. It not only puts the two sides into very different places, but also has generated different lessons. For Israel, it highlights a history of persecution, suffering and self-reliance that others can neither understand nor share. For Germany, it generates life-long guilt and mandates support of Israel on the basis of a moral obligation to reconciliation and protection of Jewish lives.
The result is, second, a shared commitment to Israel's security, but without agreement of what exactly this means. The German government acknowledged the notion of Israel as a Jewish state, supplied it with military equipment and is working to prevent Iran from obtaining a nuclear weapon.
And Angela Merkel in February 2014 received Israel's highest civilian award for "outstanding contribution to the State of Israel". At the same time, there is no consensus between Berlin and Jerusalem about the legitimate borders of Israel, appropriate policies and practices against Palestinians, and the 'two state solution'. In other words, there is no shared vision of what the future state of Israel looks like.
Yet true friends would need to agree on this existential question – what kind of security for what Israel? – or at least be open to negotiate a shared understanding. And they would need to be clear that security is not just about territorial integrity and physical safety of the population, but also – one might say above all – about identity.
The Israeli government surely has such an understanding, but it does not appear willing to negotiate or compromise on it. It considers the conception of Israel's security a sovereign prerogative, which others are asked to support but are not allowed to have a say in. Many will say this is normal. But then they will also have to accept that Israel cannot have friends.
Perhaps Germany has an obligation to keep trying. I think the most valuable Freundschaftsdienst (friendly gesture) Germany can make is to create an understanding, not just in Israel but the region, how to build a friendship with neighbors with whom one shares a history of destruction and violence – how to turn these overlapping biographies into a shared project committed to peace.
This may be a utopia, but today's Germany can credibly argue that it does not have to be an unrealistic one. The question is whether Israel, for one, is willing to embrace a condition of existential interdependence and submit to a true friendship.