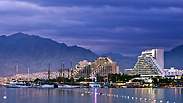 Eilat. A 51% drop in tourist stays in first quarter of 2015
Photo: Shutterstock
Anyone walking around Tel Aviv's beaches, especially on weekends, will find it difficult to understand what tourism crisis everyone in Israel is talking about. The beaches are packed with tourists from Germany, Holland, England, the Czech Republic and Hungary, mostly young people enjoying a relaxed vacation in the city.

But as soon as one goes out of Tel Aviv, the depth of the crisis is revealed. Despite the hopes for a recovery two or three months after last summer's operation in Gaza, it seems the crisis is only getting worse, the number of tourists is dropping, the number of hotel stays is declining and the number of organized tours has been significantly cut.

Expensive Vacation

GoEuro website, which covers 150 cities and over 60,000 properties, ranks Israeli capital as the 42nd most expensive city in the world for accommodation and the sixth most expensive for luxury hotels.

The initial figures of 2014 signaled a promising start: The first half of the year recorded a 16% rise in tourist stays, and industry officials were certain that it would be a record year in incoming tourism, both in terms of tourist entries and hotel stays.

But Operation Protective Edge disrupted the plans and had an immediate effect on incoming tourism – starting with a complete halt in new booking to the cancellation of all vacation packages which could have been cancelled without paying the full cancellation fee.

The figures for the second half of the year pointed to a 26% drop in tourist stays. An annual summary presented a 6% drop in tourist stays and a 4% drop in proceeds from incoming tourists.

Now, in 2015, the situation is only getting worse, reflecting the ongoing effect of the cancellations and halted bookings from abroad, as well as the depth of the economic crisis in Russia.

Figures compiled by the Israel Hotel Association for the first quarter of the year point to a 28% drop in tourist stays in Israel. The southern city of Eilat, Israel's tourist resort, recorded a 51% decline in tourist stays, the Dead Sea recorded a 44% drop, Nazareth – 32%, and Tiberias – 31%. The situation isn't much better in Jerusalem and Netanya.
'The pilgrims and Jews are the only ones left'
Ari Keren, 62, the general manager of the Eden Hotel in Tiberias, has been working there since completing his military service. He used to work as a reception clerk and waiter, and is now forced to work in reception and marketing again in order to save on costs.
"There is a huge drop in incoming tourism and a drop in room prices for groups," he says. "We sell a half-board stay for groups of pilgrims for about $40 a night. We had groups from Poland, Russia and Romania, and they stopped coming. The pilgrims arrive in Israel for a week, but spend six nights in Bethlehem."
Keren recently made the hotel glatt kosher and began working with the ultra-Orthodox population in order to compensate for the losses from incoming tourism.
Oni Amiel, the manager of Amiel Tours, has been working in Israel's incoming tourism industry for decades. According to his estimate, the industry has lost hundreds of millions of dollars in the current crisis.
"The Protective Edge effect basically began in the first quarter of 2015," he says. "Tourists still came here immediately after the war, with booking they couldn't cancel. Now there is a drop in the entire incoming tourism – individuals, groups, events and conferences. Every recovery from such a crisis is slow and exhausting, and the way things look today, it will continue in 2016.
"It's not just Protective Edge. The entire Middle East appears to be on fire. Maps of the region seen abroad present Israel as a small island surrounded by Lebanon and what is happening with Syria, Hamas, Yemen, the Islamic state. It's not easy."
According to Amiel, "Tourism to Israel is based on pilgrims or Jewish tourists. The past few years, which were relatively calm, saw an increase in the general tourism as well, but now that it has dropped we are only left with the pilgrims and Jewish tourists.
"We are operating under difficult conditions. In tourism you need professionals, people who can speak to a priest who organizes a group, a choir or band manager, and understand these audiences' special needs. So we are making every effort to preserve the employees, and we hope things will get better."