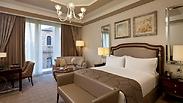 Waldorf Astoria Jerusalem hotel
Photo: Amit Goren
Planning a vacation in a 5-star hotel in Jerusalem? If you happen to be Israeli, prepare to pay the second highest price in the world.

The GoEuro accommodation price index, which covers 150 cities and over 60,000 properties, has ranked Jerusalem as the 42nd most expensive city in the world in terms of hotel prices with an average price of $91 per night in 2014.

Attracting Tourists?

Israel's capital expected to get as many as 2,000 new hotels rooms within six years. Four Seasons and W hotels are already on their way.

But a breakdown according to hotels rankings reveals that the Israeli capital's luxury hotels put the city in the sixth place before value added tax, and in the second place in hotel prices including value added tax, which applies to Israeli vacationers.

Punta Cana in the Dominican Republic, which is a popular vacation spot among Hollywood's rich and famous, tops the list with an average price of $1,323 per night in a 5-star hotel. In Jerusalem you'll pay $718 for a night in a 5-star hotel, followed by St. Moritz ($687), Reims ($679) and New York ($669). Foreign tourists will pay an average of $609 (without VAT) per night in for a 5-star hotel room in Jerusalem.

GoEuro is a travel search engine of a Berlin-based company that compares and combines air, rail, bus and car rental options. Every year, it publishes a travel price index which measures accommodation costs in different hospitality properties, including Airbnb apartments, 5- and 4-star hotels, and hostels.

The website compiles data from about 60,000 properties in Europe, adding popular cities around the world. The price is for a couple per night, and in Airbnb apartments it is calculated according to 4 guests and divided in two.

Meanwhile, Central Bureau of Statistics figures point to an ongoing drop in the number of tourists entering Israel following the summer's conflict in Gaza, although the decline was slightly moderated in November.

A total of 3.031 million visitors (including 2.72 million tourists) arrived in the country in the first 11 months of the year – a meager increase of 0.1% from the same period last year.