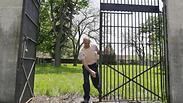 Entrance to Beth Olem Cemetery
Photo: AP
Beth Olem Cemetery is like many aging, final resting places, with assorted tombstones in varying condition, sizes and styles, surrounded by a brick wall and iron gate.

Yet surrounding it on all sides is an unusual neighbor: a massive automotive plant.

Burial Fraud?

More than 60 people accuse Eden Memorial Park of breaking vaults to make room for more graves and disposing of human bones in a pile.

The serene, green oasis is enveloped by the steel and concrete structures and grounds of General Motors Co.'s Detroit Hamtramck Plant, which makes Chevrolet Volts, Cadillacs and other cars.

To maintain plant security, public access to the cemetery is limited to a couple of days a year -- typically Sundays nearest to the Jewish holidays of Rosh Hashanah and Passover -- and some special requests. This year, the opening around Passover was postponed a month until this past Sunday, when a couple of dozen people showed up.

The 2.2-acre (1-hectare), 1,100-grave Jewish cemetery with burials ranging from the late 1860s to the late 1940s, has survived through historical quirks. The biggest was an agreement ironed out about 35 years ago to preserve the cemetery when GM got Michigan Supreme Court approval of its contentious bid to demolish roughly 1,500 homes and businesses, several churches and a hospital so it could build a new plant.

Visitors who clear GM security and drive about a mile (1.6 kilometers) around the plant are welcomed by an iron arch with partly rusted letters that reads, "BETHOLEM CEMETERY."

Given the passage of time and infrequent access, cemetery officials say visitors with no connection to the deceased outnumber descendants. Still, Sunday's guests included Susan Brodsky, who saw for the first time the grave of her great-grandfather, Chlavno Cantor, who died in 1909. The connection was made through her daughter, Olivia Brodsky, who was working on a college genealogy project, then confirmed by an elderly male cousin.

"He said it was in the Cadillac plant," said Susan Brodsky, standing next to the headstone that read "Cantor" in English and the rest in Yiddish. "At first, I'm sitting there going like, 'Where? Where? What is he talking about?' Then I started Googling 'old Jewish cemeteries in Detroit' and it was pretty obvious. ... This was it."

The cemetery's existence isn't widely known, but those searching online can find some information. Local historic and Jewish organizations as well as a weekly Jewish publication occasionally write about it, and some learned about the cemetery opening from those websites and social media.

In the early 1860s, members of what's now called Congregation Shaarey Zedek secured the burial ground, according to a 1992 article published by the Jewish Historical Society of Michigan. Beth Olem's bucolic setting soon gained industrial neighbors as the auto industry ascended at the turn of the 20th century. The Jewish community moved in subsequent decades, and the cemetery had fewer burials as other cemeteries opened.

Ralph Zuckman is executive director of Shaarey Zedek's Clover Hill Park Cemetery, a suburban Detroit cemetery overseeing Beth Olem, which is also spelled Beth Olam and means "house of the universe." He said the synagogue shared oversight with other congregations in the 1980s but assumed full responsibility when it came time to negotiate with GM.

"We realized we had an interest in that cemetery and wanted to make sure it remained," he said. "In Hebrew, going onto a cemetery property is like walking into a synagogue. You're walking on holy ground."

While the arrangement is unconventional, Zuckman described the relationship between the automaker and cemetery officials as "very good." Some landscaping work and headstone repairs are needed, but the grounds and graves are in generally good shape given their age. Clover Hill Park is responsible and pays for upkeep, though GM has access in case of emergency.

In addition to maintaining security of the plant, GM and cemetery officials say they agreed to limit access because of low demand: Two generations have passed since the last burials and the current schedule has accommodated those who want to visit.

The gravesite of Vichna Benstein, 1867-1898, was spotted by great-granddaughter Barbara Morse, who came with her son-in-law and two grandchildren. Soon they were reciting prayers and laying flowers and stones, per Jewish custom.

Morse, 69, said she's been coming off and on for 20 years to pay respects.

"You can only come when GM says you can come, but I guess that we should be thankful that we can come twice a year," Morse said.