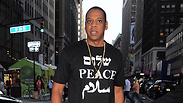 Shalom to you too, Jay Z
Photo: Splash News
American music power couple Beyonce Knowles and Shawn "Jay Z" Carter have chosen the simplest way to promote good manners and peace in the Middle East.

The two were spotted leaving their Manhattan office building on Monday wearing t-shirts with inspirational messages. While Beyonce's shirt read "Never Forget to Say Thank You," Jay Z's had the word "peace" in English, Hebrew and Arabic.

Who knew that the 45-year-old rapper and producer also serves as a goodwill ambassador in his free time?

His 33-year-old wife, by the way, completed her outfit with a pair of ripped skinny jeans and Ray ban sunglasses, as well as black and yellow ankle-strap stilettos.

We can't wait to see what they have in store for us next.