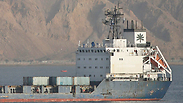 Illustration
Photo: Reuters
An Iranian naval patrol boat fired on a Singapore-flagged commercial ship in the Persian Gulf on Thursday in an apparent attempt to disable it over a financial dispute over damage to an Iranian oil platform, a US official said.

The Iranians initially fired warning shots Thursday after the MT Alpine Eternity refused to move into Iranian waters. The incident took place a bit south of the island of Abu Musa just inside the Gulf, according to the US official, who was not authorized to discuss details by name. The official said the US military was not involved in the incident.

After the warning shots were fired the ship began heading toward territorial waters of the United Arab Emirates, and the Iranians then opened up with machine gun fire, according to the US official. The official said early reports indicated no one aboard the ship was injured.

In response to a call for help from the Alpine Eternity, the UAE coast guard responded and the Iranian patrol vessels left the area.

Officials at Transpetrol, the Singapore-flagged ship's manager, who were reached by telephone by The Associated Press, said they had no immediate information. The company lists offices in Belgium, Norway, Switzerland and Bermuda.

"We're certainly concerned about anything that interferes with freedom of navigation in international waters and the free flow of commerce," State Department spokesman Jeff Rathke said, noting that no Americans or US ships were involved.

The US official said the Alpine Eternity is involved in a financial dispute with Tehran. The Alpine Eternity on March 22 accidentally struck an Iranian oil platform, damaging it. The ship, which also was damaged in the accident, went into port for repairs, and during that period the Iranians informed the shipping company that it must pay for damage to the oil platform.

With the dispute apparently unsettled, the Iranians confronted the Alpine Eternity near Abu Musa island, the US official said. The dispute escalated from there. The US official said the US Navy communicated with the Alpine Eternity after the Iranians fired at it, but by the time the circumstances became clear the incident was over, and no US ships were dispatched to the scene. The US maintains a constant aircraft carrier presence in the Gulf area.

This was at least the second recent significant incident involving the Iranian Revolutionary Guard Corps Navy and a commercial vessel in the Gulf.

In late April a Marshall Islands-flagged cargo ship seized by Iran as it traveled through the Strait of Hormuz was detained for more than a week and was finally released last Thursday. Iran claimed the Danish shipping company that chartered the MV Maersk Tigris owed money to an Iranian firm. Officials have not said whether any money was paid to settle the claim.