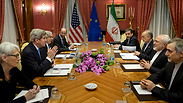 Nuclear talks
Photo: Reuters
WASHINGTON - The US Congress on Thursday sent President Barack Obama a bill to give lawmakers the power to review and potentially reject a nuclear deal with Iran.

The House overwhelmingly passed the measure, 400-25, a reflection of lawmakers' insistence on having a say in what could be a significant international accord to get Iran to curb its nuclear program in exchange for relief from economic sanctions.

Getting a deal would enhance Obama's foreign policy record, and while the Republican-led Congress doesn't want to see a nuclear-armed Iran, they are skeptical about Iranian compliance and have demanded time to review the fine points of any agreement the White House reaches with Tehran.

Presidential spokesman Josh Earnest said again Thursday that Obama would sign the bill into law.

Negotiators from the US and five other nations are rushing to reach a deal with Tehran by the end of June. As the House voted, Obama met at the Camp David presidential retreat with Arab leaders in hopes of convincing them that US overtures to Iran would not come at the expense of commitments to their security in the region.

The Iran nuclear legislation would bar Obama from waiving congressional sanctions for at least 30 days while lawmakers examine any final deal. The bill would stipulate that if senators disapprove of the deal, Obama would lose his current power to waive certain economic penalties Congress has imposed on Iran.

The bill, which was passed last week by the Senate on a 98-1 vote, would require Congress to pass a resolution of disapproval to reject the deal, an action that Obama almost certainly would veto. Congress then would have to muster votes from two-thirds of each chamber to override the veto.

Even if Congress rejects his final nuclear deal with Tehran, however, Obama could use his executive pen to offer a hefty portion of sanctions relief on his own. He could take unilateral actions that - when coupled with European and UN sanctions relief - would allow a deal to be implemented.

Rep. Ed Royce, the Republican chairman of the House Foreign Affairs Committee, backed the measure, saying it would strengthen the US negotiating position with Tehran.

"Instead of Iranian negotiators knowing that they can wear down the administration, this now injects Congress as an important backstop," Royce said.

New York Rep. Eliot Engel, top Democrat on the panel, urged bipartisan passage, saying, "Let's get this bill to the president's desk with a single voice."

At the same time, he lamented that the nuclear talks were not addressing Iran's threat to destroy Israel, Americans being held captive in the country, Iran's backing of militant groups and its involvement in Iraq, Yemen and Syria.

Separately, the House unanimously passed a bill, 423-0, to impose new sanctions on Hezbollah's fundraising channels and restrict its ability to use its funds to support global terrorist activities. Iran is a strong backer of the Lebanese Hezbollah, which was designated as a terrorist group by the US in the mid-1990s.

Also Thursday, the House considered a defense policy bill that authorizes US military spending, with a final vote expected Friday. Obama has threatened to veto the House bill, which historically has garnered overwhelming bipartisan support.

Overall, the House bill authorizes $515 billion in spending for national defense and another $89.2 billion for the emergency war-fighting fund for a total of $604.2 billion. Another $7.7 billion is mandatory defense spending that doesn't get authorized by Congress. That means the bill would provide the entire $611.9 billion desired by the president, but he still has threatened to veto it.

The same approach to authorizing defense spending was taken Thursday on the Senate side, and garnered the same opposition from Democrats.

The Senate Armed Services Committee voted 22-4 to authorize $523 billion in base funding for the Defense Department and the national security programs of the Energy Department as well as an additional $90.2 billion for the emergency war-fighting fund.