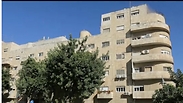 Bauhaus style in Tel Aviv
Photo: Gil Yohanan
Germany will donate 2.5 million euros over ten years for the preservation of Tel Aviv's "White City", German Construction Minister Barbara Hendricks told Mayor Ron Huldai on Thursday, with an initial grant of NIS 250,000.
The project coincides with the 50th anniversary of German-Israeli diplomatic relations.
The White City, which was designated a UNESCO World Cultural Heritage site in 2003, is the largest collection in the world of buildings in the modernist Bauhaus style.
The unique buildings were designed in the 1930s by Jewish architects who fled Germany after the Nazis' rise to power. They created about 4,000 structures, of which roughly 2,000 have been slated for preservation. Many of the buildings are in need of restoration.
"We will help the city of Tel Aviv preserve this significant cultural legacy," said Hendricks.
"We plan as a first step to create a preservation center for the White City. In this way we will create a platform for the future restoration of the buildings. I look forward to a fruitful partnership between German and Israeli authorities in all areas of construction.
The project will involve construction experts, craftsmen, and artists, who will form plans to restore the buildings in coordination with their inhabitants.
The new center will be housed in the Max Liebling House, a notable example of the White City's style that has been marked for preservation. It is expected to open its doors in 2017.