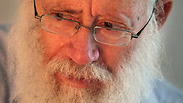 Rabbi Moshe Levinger
Photo: Alex Kolomoisky
Settler leader Rabbi Moshe Levinger was laid to rest in the ancient cemetery of the West Bank city of Hebron on Sunday afternoon, a day after he died at the age of 80. Levinger had suffered from health problems in recent years, after a serious stroke some seven years ago.
"It is hard for us to say goodbye to you," Rivlin said in his eulogy.
The funeral procession set out from the Tomb of the Patriarchs, where Rivlin delivered his eulogy. Some 1,000 people, among them family, friends and a number of religious Zionist lawmakers.
"People like to say that you weren't a man of consensus – and this must be true," Rivlin said. "Yet, you never neglected to make an effort to involve as many people as you could to your endeavors, from the 'Valley of Hebron' you asked your brothers from all the camps to join you."
"You believed with all your heart that by rebuilding Hebron, you would also re-build Jerusalem, and out of that belief you acted to ensure that not only would Jerusalem be redeemed, but so would Kiryat Arba, in Hebron," Rivlin continued.
Levinger, who helped reestablish Jewish settlement in the heart of Hebron, was buried close to the Tomb of the Patriarchs, one of the holiest sites in Judaism.
The rabbi led the first settlers back to Hebron in 1968, a year after Israel captured the city from Jordan in the Six-Day War. Jews had lived in the city for centuries until Arab riots drove most of them out in 1929. Today around 800 settlers live in heavily guarded areas of Hebron alongside 180,000 Palestinians.
President Reuven Rivlin attended the funeral, which took place in the square in front of the Tomb of the Patriarchs.
On Passover eve 1968, a group of religious families led by Levinger gathered at Park Hotel in Hebron, with the help of several Israeli ministers, to celebrate the festival, and subsequently refused to leave.
In a deal with the government, he moved with his family and followers to a former IDF base on a hill just northeast of Hebron, where, with the state's cooperation, they established the settlement of Kiryat Arba.
In 1988, Rabbi Levinger shot to death a Palestinian, after he was pelted with rocks. The court sentenced him to five months imprisonment after he was convicted of negligent homicide.
Before he started serving his sentence he said: "I was faced with two possibilities: Open fire, or not. It is better that I sit five months and even five years in prison than to be led, along with my four children, to burial."