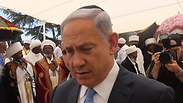 Benjamin Netanyahu at the ceremony
Photo: Gil Yohanan
Prime Minister Benjamin Netanyahu lashed out at racism in Israeli society on Sunday, telling members of the Ethiopian community that there is no place for it in Israel.

Netanyahu was speaking at an official ceremony to mark a memorial day for the 4,000 Ethiopian Jews who died on their way to Israel. The Mount Herzl ceremony, which takes place on Jerusalem Day, was this year was punctuated by the protests by community members in recent weeks, over claims of a general discrimination, racism and police brutality.

"Two weeks ago I met with some of you," Netanyahu told those present. "It was an emotional meeting. Let me even say stirring. I heard complaints about racism, discrimination, deprivation and excess use of force, and of fear to walk down the street because of the color of your skin.

More on this topic:

"I cannot accept this. Not in our country. Not in the Jewish state. I have set up a special ministerial committee to deal with these issues. One principle is clear: There is no place for racism and discrimination in our society."

Those who perished during the wave of Ethiopian immigration to Israel mostly died walking to Sudan or during the wait in refugee camps there.

Netanyahu said: "When I was a soldier walked many kilometers through the Negev and the Galilee, from sea to sea, but your journey was unparalleled. A journey of weeks and sometimes months; a journey of uncertainty."

President Reuven Rivlin, who also spoke, said that Israel had not treated its Ethiopian community fairly.

"This year something happened. In recent weeks we have seen and heard all the cries of pain of Ethiopian Israelis," Rivlin said. "The protesters in Jerusalem, Tel Aviv and Haifa have exposed an open wound, alive and bleeding inside Israeli society. It was the wound of a community uttering a heartfelt cry of discrimination, racism, insult and neglect.

"Israeli society erred in its treatment of Ethiopian Jewry. The State of Israel was mistaken in its reception and treatment of the members of the community over the years. We did not see, we did not do right, we did not pay enough attention. Israel cannot let its finest sons and daughters, discharged men and women soldiers, outstanding students, feel cut off and alienated."