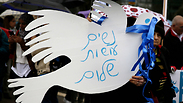 'Thousands of women in Israel are unwilling to lose hope for a different life in this country'
Photo: AFP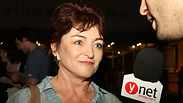 Savyona Rotlevy
Photo: Ofer Amram
Media reports about the coalition agreements mentioned that the government's basic guidelines include no trace of the fact that we have been engaged in repeated wars for almost 70 years and are living in an entity like no other in the world – a state without recognized and acceptable borders.

There is no trace of the fact that the citizens of the State of Israel yearn for peace between us and our neighbors, although some of them are perhaps more afraid of peace than of the next wars.

Open Window

Op-ed: In the new map of interests in the Middle East, created by radical Islam's attack on pro-Western Arab states, the price Israel will be required to pay for a solution to the conflict is exceptionally low.

A day before the new government headed by Benjamin Netanyahu was sworn in, it published its basic guidelines, led by the declaration that the government would advance the peace process and pursue a peace agreement with the Palestinians and all our neighbors, while maintaining Israel's security, historical and national interests.

Does the current government really mean that, or is this declaration just a "copy paste" of previous declarations, which were not followed by real actions to advance the negotiations with our neighbors?

Will the current government succeed in implementing all its plans for major reforms in the economy and society without starting to make peace, rather than just talking about it? Isn't there a great concern that all the dreams about these reforms will quickly melt away in light of the increase in the defense budget and other sectorial budgets and in light of the feeling of discrimination among the populations which are forced to carry the heavy burden of taxes and military service?

The absence of sincere activities towards a peace agreement, will convey a message to the message that our hope of living a normal life here, as a free people in our land is lost. A people that forever lives by the sword cannot enjoy a sense of freedom. A people surrounded by internal and external walls is not a free people in its land. A people in which parts of the population feel discriminated against and excluded is not a free people. There isn't a single person who is willing to lose hope. The same applies to a people.

Viktor Frankl, who searched for meaning to his life even in the lowest, cruelest and darkest place, wrote that man has a special virtue: He can only exist by looking to the future. In other words, he has hope.

When Prime Minister Benjamin Netanyahu addressed the Knesset on October 27, 2014, shortly after the end of the Protective edge war, he didn't ignore the need for hope either, announcing that "peace will only be achieved in negotiations between the sides, and any other way will only undermine stability. Israel will not lose its hope for peace, but will also not get caught in false hopes."

Moshe Kahlon, a senior minister in the new government, declared before the elections: "I come from the Likud, a real Likud which knows how to make peace, knows how to give up lands. A conservative, responsible Likud. When there was a need to make peace with the biggest Arab state, it made peace, and when there was a need to talk, it talked. My friends and I will not miss out on any opportunity for peace."

Thousands of women in Israel, from the north to the south, are unwilling to lose hope for a different life in this country, and they will remind the prime minister and his ministers of their declarations. Thousands of women, whose number is growing, are determined to demand that this government initiate a diplomatic move, rather than stand aloof doing nothing and waiting for the next war, which will claim more victims, ignite hatred and keep us away from the existential, social and economic security which we need so much.

Thousands of women are unwilling to have children and sacrifice them in wars which are not necessary wars. This is the reason why representatives of the Women Wage Peace movement stood up on the day the government was sworn in and called on the government and on the Knesset to work for a diplomatic agreement in the current term.

My friends and I don't want to lose hope, for our sake and for the sake of our children and grandchildren. Our hope will not be lost!

Savyona Rotlevy is a retired judge and a member of the Women Wage Peace movement.