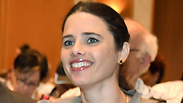 Ayelet Shaked
Photo: Yair Sagi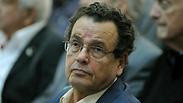 Daniel Friedmann
Photo: Yaron Brener
The initial wave of attacks on the appointment of Ayelet Shaked as justice minister came and went – the public wasn't very impressed with the outcry and realized she has the wherewithal and qualifications to succeed in her role.
Now we are witnessing a second wave by those who "take comfort" in their belief that Shaked won't be able to change anything anyway. Previous ministers, too, they argue, came up short, so how will she manage to do so?
Paralyzed Minister
Op-ed: Two justice ministers tried to revolutionize Israel's legal system and failed; one had extensive political experience, the other had a professional reputation, and they both had the prime minister's full support. Ayelet Shaked has none of that.
But the efforts to discourage her won't work. Indeed, implementing reforms in the judicial system is not easy; but despite the power of the judicial system and despite the politicians' fear of it, we have come a long way since the dark days when the Judicial Appointments Committee was simply the rubber stamp of the Supreme Court justices, who would convene and decide who has the right to mingle in their midst.
Since then, a series of changes have been made. The Courts Law was amended in a manner that clarified the obvious – i.e., that the members of the Judicial Appointments Committee are not bound by the instructions handed down to them by the band of Supreme Court justices. And since then, the improper practice of Supreme Court justices making decisions about candidates for seats on the bench was essentially abolished.
Another important development was the establishment of the Ombudsman's Office of the Israeli Judiciary – a move that showed that the political system does not accept the premise that judges are above criticism. The next step came during Haim Ramon's term in office as justice minister, when we saw the enactment of legislation concerning the rules of ethics for judges that the Supreme Court president was required to determine. The rules were published during my tenure as justice minister.
Another significant change came when I decided to cancel the illegitimate practice of temporary appointments to the Supreme Court. This move reinforced the independence of district court judges and allowed for the appointment of worthy justices to the Supreme Court bench.
The key factor that will make it easier to implement the necessary reforms is the change in the public's consciousness and mood. The phenomenon of the past, which ruled out any possibility of taking the judicial system to task, has faded.
While there are still some parts of the public and the Knesset that worship the Supreme Court, criticism of its rulings and justices is now permissible. It's now safe to assess that any reform in this area will be accepted and appreciated not only among government circles, but also among the general public and wide segments of the academe too.
Professor Daniel Friedmann was justice minister from 2007-2009; among others, he has taught law at Harvard University, Tel Aviv University and the University of London