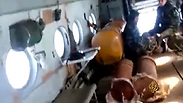 Syrian army documented dropping barrel bombs
Recently discovered video footage shows forces loyal to Syrian President Bashar Assad dropping barrel bombs at a populated area in Idlib, exposing Assad's lies on barrel bombs, British Foreign Secretary Philip Hammond said.

Britain's Foreign Office said the footage was discovered on a mobile phone found in the wreckage of a crashed government forces helicopter and handed to broadcaster Al Jazeera.

Footage showing Assad army using barrel bombs

"This video footage exposes Assad's lies on barrel bombs. It shows the casual and indiscriminate way in which Syrian regime forces are dropping these horrific weapons out of helicopters onto civilians below," Hammond said in a statement.

"We will bring those involved in these criminal acts to justice and will continue to help those caught in attacks by continuing our support of rescue teams working on the ground."

According to Amnesty International, barrel bombs - containers packed with explosives and projectiles that are dropped from helicopters - killed some 3,000 civilians in the northern Aleppo governorate last year.

Assad said in February that the Syrian air force did not use barrel bombs. US and European officials have said his denial is not credible, and Hammond's intervention reflects growing Western anxiety about the issue.


Meanwhile, Western intelligence agencies who have been closely following the fighting in Syria believe the Assad regime is still in possession of large quantities of chemical weapons, particularly nerve gas.

Nearly 1,000 tons of chemical weapons - including mustard gas, sarin gas and VX - have so far been dismantled and removed from Syria.

However, a recent report released by the Organization for the Prohibition of Chemical Weapons (OPCW), the organization in charge of removing Assad's chemical arsenal from the country, pointed to ten suspected sites in which Syria is believed to still be storing chemical weapons.

The OPCW requested access to the sites from the Syrian regime but has yet to receive permission to visit them.

The organization said in response that it would not be able to declare Syria clean of chemical weapons until its inspectors are given access to the ten sites.

The inspectors, however, are not searching for the chlorine gas the Assad army has been using with impunity in order to paralyze urban areas controlled by the rebels. They are searching for the lethal sarin gas, which Western intelligence agencies believe the Syrian regime still possesses.

Israel, which is closely monitoring the situation the international inspectors' efforts to gain access to the suspected sites, currently prefers to allow the inspectors to deal with the Assad regime and rid Syria of its lethal weapons.

In the past, Defense Minister Moshe Ya'alon has set three red lines that would lead to IDF operations against Syria: Violating Israel's sovereignty, the transfer of advanced weaponry to Hezbollah, and the continued presence of chemical weapons in Syria.

Israel fears extreme Islamist groups would get their hands on shells or bombs with chemical warheads.

The US administration has already threaten to attack Syria's chemical facilities - a threat that brought Assad to the table and led to an agreement to disarm Syria of its unconventional weapons.

The Russians, who mediated that agreement, are also concerned of the possibility Syria still possesses chemical weapons, and are pressuring Damascus to cooperate with the inspectors - so far to no avail.

Source familiar with the issue said that if the Syrians insist on keeping these lethal materials, it is likely that Western forces - Americans or others - attack the sites Damascus is preventing the inspectors from accessing.