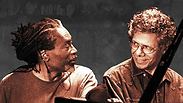 Bobby McFerrin and Chick Corea. Jazz legends on their way to Israel
Photo courtesy of the Zappa Group
Bobby McFerrin and Chick Corea, two of the most famous names in the world of jazz, will visit Israel this summer for four concerts as part of their international duo piano tour.

The two American musicians will perform at the Zappa Amphi Shuni on July 22, at the Zappa Herzliya on July 24, and again at the Zappa Herzliya on the afternoon of July 24.

Welcome Back

Four years after its last visit, English alternative rock group will perform at Menora Mivtachim Arena in Tel Aviv on July 30.

That same day they will perform in the evening at the Ra'anana Amphi Park.

McFerrin and Corea are being brought to Israel by the Zappa Group. Ticket prices will range from NIS 299 to NIS 599 (about $77-155), depending on the seat's location.

Bobby McFerrin is best known for his 1988 hit song, "Don't Worry, Be Happy." The 65-year-old musician's work is influenced by jazz and he is considered a virtuoso vocalist. His trademark is his singing which ranges between low and high notes, as well as his ability to produce vocal effects. McFerrin last visited Israel in 2012.

The American Chick Corea, born Armando Anthony, is a virtuoso jazz pianist himself. He has won more than 20 Grammy awards and is one of the most critically acclaimed composers in the world today. His genres include jazz fusion, Latin jazz, classical music, avant-garde jazz and progressive rock.

Chick Corea has visited Israel several times. He was scheduled to perform in the country last summer alongside jazz musician Stanley Clarke, but the concert was canceled due to the Israeli operation in Gaza.