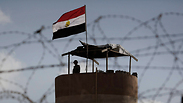 Guard tower at Egypt-Gaza border
Photo: EPA
The Gaza Strip has the world's highest unemployment and Palestinians, Israelis and donors must take action to avoid a "dangerous fiscal crisis," the World Bank said Friday.
The report, prepared ahead of the bi-annual meeting of the Ad Hoc Liaison Committee (AHLC) which coordinates international donor support for the Palestinians, comes nearly a year after the 50-day conflict between Gaza militants and Israel, in which around 2,200 Palestinians were killed.


According to the World Bank, the virtual disappearance of Gaza's exports can be explained by no other variable than "war and the blockade."
"The impact of the blockade imposed in 2007 was particularly devastating, with GDP losses caused by the blockade estimated at above 50 percent and large welfare losses," the report said of the blockade imposed by neighbors Israel and Egypt.
The World Bank urged the Palestinian Authority, Israel and the donor community to take "actions" and carry out "reforms" in order "to reverse the recent and worrisome slowdown in economic growth" and "avoid a dangerous fiscal crisis."
The report said unemployment in Gaza increased in 2014 "to reach 44 percent -- probably the highest in the world," with the poverty rate in the Palestinian territory reaching 39 percent, despite the fact that nearly four of every five Gazans receive "some aid."
"Gaza's unemployment and poverty figures are very troubling and the economic outlook is worrying," the World Bank quoted Palestinian territories director Steen Lau Jorgensen as saying in a statement.
The World Bank said that to rebuild Gaza's economy, "a unified Palestinian government in both West Bank and Gaza" was required.
It called for the "lifting of the blockade on the movement of goods and people to allow Gaza's tradable sectors to recover."
The report said that of the $3.5 billion pledged by the international community for Gaza's reconstruction just 27.5 percent, or nearly $1.0 billion, had been disbursed so far.
But the lack of donor funds is not the "binding constraint on Gaza's recovery" rather "the limitations on imports of construction materials into Gaza."
"Therefore, taking into account legitimate security concerns of neighboring countries, ways have to be found to drastically improve access to construction materials in Gaza," the report said.
Israel controls two of the three land crossings into Gaza and maintains a total air and sea blockade, closely monitoring construction materials into the Palestinian territory out of fear they could be used as weapons or to build attack tunnels.
The third land terminal, at Rafah on the border with Egypt, has been largely closed by Cairo since October when it also ordered its troops to create a buffer zone along the border and step up efforts to raze the network of cross-border tunnels.
The World Bank report will be presented to the AHLC on Wednesday in Brussels.