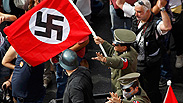 Photo: Reuters
Photo: Reuters
A painting that was seized by the Nazis and only recently returned to the Jewish owner's heirs is going on auction.
Max Liebermann's "Two Riders on a Beach" was discovered in 2012 in the long-hidden art trove hoarded by German collector Cornelius Gurlitt.
Gurlitt died last year and the painting was one of the first from his trove to be released back to the heirs of their rightful owners.
The oil painting will go on auction in London on June 24, when it is estimated to sell for up to $850,000, Sotheby's said Friday.
David Toren, the great-nephew of the painting's original owner, businessman David Friedmann, said he and other heirs have decided to sell the painting so it can "pass into a new phase of its story."
"I am 90 years old now and blind, so while the return of the painting after so many years is of huge personal significance, I can no longer appreciate the painting as I did all those years ago in my great uncle's home," Toren said in a statement.
German authorities seized more than 1,000 pieces of art from Gurlitt's Munich apartment, including looted work that had been missing for decades.