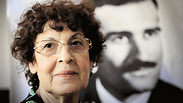 Eli Cohen's widow, Nadia Cohen, with a photograph of her husband.
Photo: Kobi Koankas
"Eli was a hero. Even if he hadn't been caught and had completed his mission, I'd still define him as a hero. To spend three and a half years in Damascus as a fighter – only heroes can do that," says the voice of one of the Mossad handlers of legendary Israeli spy Eli Cohen. The sound bite comes from recordings in which Cohen's handlers are heard speaking for the first time about the moments before the agent's final journey to Damascus, and the moment they learned of his capture.
Passed on recently to Cohen's family on the 50th anniversary of his execution in the Syrian capital, the recordings were made public on the website set up in his memory, elicohen.org.il.
"I met with him while he was in transit in Europe; if I'm not mistaken, it was towards the end of '64," one of the handers says.
"He was returning from a vacation in Israel, and we drove together in a car from Paris to Hamburg. It took us three days. He spoke a lot about his family. It was particularly tough for him because he had just been with his family. He spoke about certain situations in which he had found himself – about the loneliness and the game he was always required to play. I had the honor of being the last Israeli to see him alive because he left from there and never returned."
"I sat down at 20:30 and put the headphones on," says another handler. "And suddenly in came a transmission signal in Arabic. The transmission was addressed to Levy Eshkol, the Israeli prime minister at the time. It was signed by the Syrian Mukhabarat (military intelligence service). And then I realized he had fallen."
Female handler: "When they announced he had been caught, I didn't believe it. I couldn't believe it… I remember the day they said they had hanged him. I thought that it couldn't be true. I thought maybe they were trying some kind of psychological warfare on us. I thought maybe it was a dummy or another criminal."
Handler: "It's a big loss. It's like losing a member of your family."
Handler: "It's a terrible feeling. For years – three or four years – we were in daily contact; and then suddenly to get something like this. It leaves you broken. You feel as if your brother has fallen. Someone you are close to."